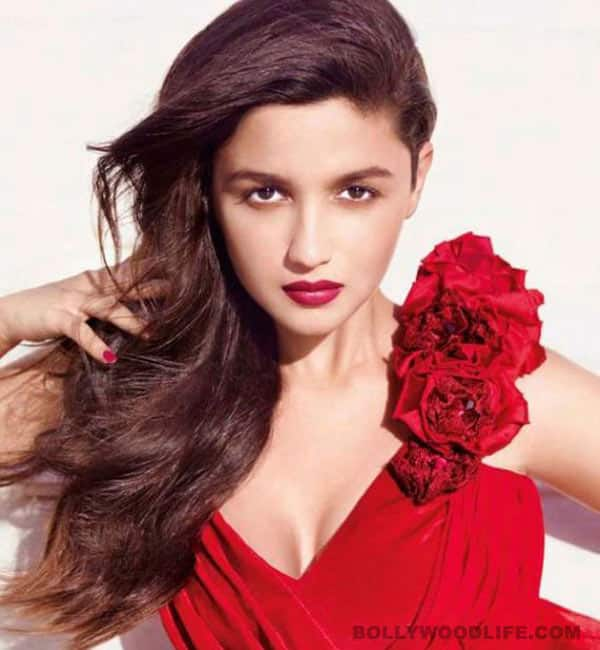 Humpty Sharma Ki Dulhania star is making some serious inroads in Bollywood making people sit up and take notice
On a rainy Sunday last week, a packed house in PVR Juhu and watched, eyes glued to the screen, a 21-year-old onscreen Punjabi bride telling her father she will marry the guy he chooses only if she is allowed to buy a designer lehenga.
Outside the hall, the real father, Mahesh Bhatt, swelled with pride as he spoke of his daughter, "I could not have imagined that beneath the ebullient pataka façade, she could hold the film on her tiny shoulders." The 60-year-old filmmaker has reason to be proud of his daughter. She might be only four films old, but Alia Bhatt has few parallels in the unforgiving world of Indian films. With four back-to-back hits, she is already considered one of the few bankable stars who can act.
As her fourth film, Shashank Khaitan's Humpty Sharma ki Dulhania (HSKD), enters its second week, Alia is the new toast of the town. Her debut film Student of the Year launched her as a pretty starlet, where, the highbrows dismissed her, remembers her father. Pitted opposite newcomers Varun Dhawan and Sidharth Malhotra, Alia did little beyond toeing the line of the narrow Archie-inspired trope of a rich college kid preening her way between two competing lovers.
The game changer was Imtiaz Ali's Highway. In this film, Bhatt was a bride-to-be who falls in love with her highwayman abductor. Alia's unhinged and intense Veera, who falls in love with her kidnapper while she travels the breadth of the country and simultaneously treads the difficult trudge towards her inner demons, silenced critics.
"I guess right choices are very important. It is difficult to choose between your favourite films, but Highway will always be special. It changed me," says Alia, taking a moment off from promoting HSKD.
Her choice of films has been impeccable, and everybody suddenly wants a piece of her. She is soon turning out to be that rare pretty face who can take a film forward. "I try to work on a good film to make it bigger," she replies when asked if the choices are conscious.
Varied choices aside, Alia always knew the screen was where she belonged. "My earliest memory is watching Govinda and Karisma Kapoor dancing on this silver TV in our living room. As they would flit between roads and lawns, changing clothes between sequences, I'd wonder how they did it. I wanted to be one of them, not sure who. I must have been eight or ten then," says Alia.
"What strikes you about her is that she is never nervous when the camera starts to roll. It is always comfortable working with her," says co-actor Varun Dhawan.
Acquiring acting chops might be a cakewalk when compared to dealing with critics. On the couch in Karan Johar's Koffee with Karan, Alia slipped out a list of gaffes: at the height of the year's political frenzy, Alia did not know what BJP stood for, who the president of the country was, or who was Sonia Gandhi.
The internet, unforgiving as it is, tripped on Alia jokes for months. She became synonymous for gaffes, and Alia Bhatt jokes still trend on Twitter or Facebook every other day. "In real life, it is easy to hate a movie star. I take these jokes in my stride. How far can you let them affect you?" she says.
She is also acutely aware that comparisons are rife. While rumour mills will tell you one day that she and Parineeti Chopra can't see eye to eye, they'll also tell you that Shraddha Kapoor is giving her sleepless nights. "Comparison with my contemporaries are a given. I don't think I can avoid that," she says.
But unlike the evident discomfort that surround the internet jokes, Alia springs up when there are questions about comparisons with peers. She patiently tells a gathering of journalists at a promotional event in Delhi that in HSKD, her Kavya is not essentially a Kareena Kapoor enthusiast; she is more interested in the Manish Malhotra lehenga that Kareena sports onscreen. With pertinent questions, patience soon gives way to assertion. "Proving your critics wrong is the best feeling in the world. It drives me. There's no fun without competition," she says.
Bhatt, who launched his elder daughter Pooja in his critically-acclaimed 1989 film Daddy, is still not sure if he will don the director's cap again to direct her. "Alia is a self-made girl, she makes her own choices. And, I have stopped directing movies long ago," says Bhatt.
"The essential difference between them is that Pooja never wanted to act, and came into the picture only when I wanted a fresh face. But Alia took to acting like a bird takes to flying. Even when she came on the sets of Sangharsh (where she played the young Preity Zinta), there was no bogus drama of filming a child actor. She took over the space she was assigned to with ease. Acting was all she ever wanted to do."
Days before HSKD hit the screens, Alia signed Vikas Bahl's Shaandar, opposite Shahid Kapoor. And cousin Mohit Suri, too, has made it known that he would love to work with her. But who is Alia keen to work with next? "Ayan Mukerji," comes the quick reply.
There is no doubt Bhatt is proud of his daughter's work. But he also admits that he and Alia had very few exchanges of words while she was growing up. "I was a hyperactive man, and she did not get as much happiness from me as she did from her friend, her school, or her mother," he confesses.
But today, the exchanges with his star daughter are more vigorous. "We have a reference point to each other's lives," he says. "She's capable, and is in the driving seat of her own destiny."