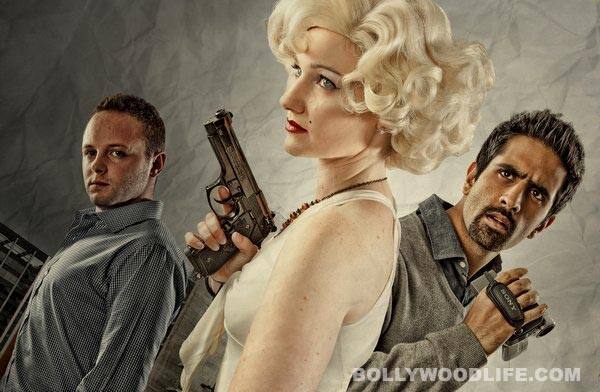 Sidharth Sharma, the director of Arjun & Alison has launched an initiative called Fight Against Racism (FAR)
Mumbai's own debutant director Sidharth Sharma has already been snapped by Mahesh Bhatt for his second film. But his first film, Arjun & Alison is making waves in London. It is set to enjoy its world premiere on June 30 at the prestigious London Indian Film Festival, but in what is a rarity for an Indian filmmaker, Sharma is actually going beyond the film to give something back to the community. Disturbed by events he encountered before making the film, Sharma has launched an initiative called Fight Against Racism (FAR).
Arjun & Alison is an unflinching look at a racially motivated murder and its aftermath. It successfully pulls off the feats of taking a balanced look at race relations in contemporary Britain, the dorm lives of overseas students and the country's thriving drug and gun subculture. Sharma says: "The story of Arjun & Alison was inspired after true life events, when I got caught up in the Birmingham riots of 2009. I witnessed them, as it was the day I landed in the city after two years of film school in India. It was very shocking to witness the youth fighting and police trying to bring things under control. This got me thinking. After collaboration and many months of exchanges with scriptwriter Andy Conway a feature script surfaced and the film was born. Arjun & Alison is a gritty new revenge thriller that tackles racism on all sides and takes no prisoners. The selection at London Indian Film Festival and our world premiere on June 30 at the Cineworld Haymarket has been a dream come true and come to us at the right time. It will give us the opportunity to proudly showcase our film for a vast and diverse audience in London."
FAR is a counselling forum on Facebook, which will help and guide the students going abroad for further studies to overcome the phobia of racist attacks. Dr Shreepad Khedekar, clinical director, who has treated tennis player Novak Djokovic and footballer Marko Pantelic will be counseling the students. Through online counseling Khedekar will ensure that the students are mentally and emotionally prepared in order to overcome their mental trauma. If students face racist attacks they can seek guidance and counseling in a click.
While on Mahesh Bhatt, there are debates raging on whether the title song of Jism 2 will set pulses racing. Fans of the less is more club may find the song titillating, but the vast majority of Indians belong to the more is more club and will soon realise that they can get all of Sunny Leone without any covered bits, engaged in carnal acts, with a mouse click. That only leaves the curiosity value of whether she can act. Cineswami thinks that even director Pooja Bhatt doesn't care about that facet of Leone.