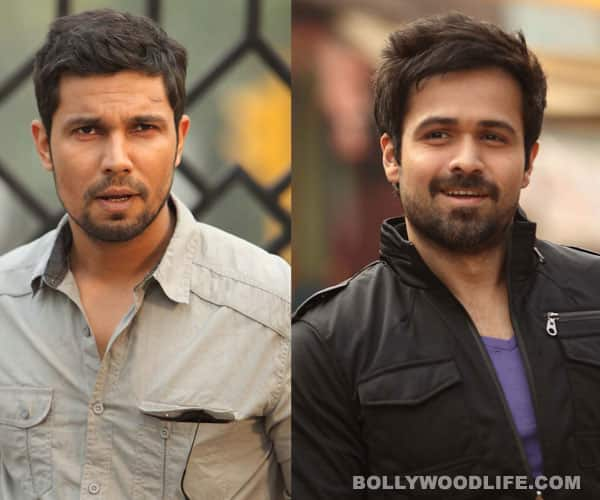 The director-producer claims he has a valid reason for replacing the serial kisser with the Sahib Biwi Aur Gangster actor in Murder 3. Want to know what it is?
Whatever Mallika Sherawat may say, Emraan Hashmi contributed greatly to the success of Murder. He did it again with Murder 2. Would you have watched that horrifying movie if it hadn't been for Emraan? No, right? We agree, and that's why it came as quite a shock to us to read that Emraan has been dropped from Murder 3. And that too in favour of Randeep Hooda! Sure, the Haryanvi hunk impressed us in Sahib Biwi Aur Gangster and in Jannat 2, but can he replace Emraan in the Murder franchise? Director Mahesh Bhatt definitely thinks so.
Mahesh told a national daily today that he wants to take the franchise to a more "upmarket" level. The plan is to appeal to a "multiplex audience" and not just "Emraan's mass base". That's why Randeep, and not Emraan, is the leading man of Murder 3. Doesn't that break your heart? And flummox your brain too? Mahesh was the one who signed Emraan for Raaz 3. A major part of the movie has already been shot and Mahesh has repeatedly tweeted that he is very happy with Emraan's work in the film. Then why this change of mind now? To be fair, Mahesh also stated that Emraan is a star, while Randeep is still "evolving". Does that mean that they need a star only for Raaz 3, but not for Murder 3?
Mahesh's statements read like insults for both Emraan and Randeep. Not only is Emraan not worthy of being a part of the very franchise he made successful, but Randeep also is not a big star, not even as big as Emraan. It is also insulting to us! If we follow the Bhatts' logic that only the masses love Emraan and the classy multiplex audiences love Randeep, then what does that make us? We love both of them!
Wethink Mr Bhatt needs to figure out what he wants to say before he actually says it. Frankly, we can't imagine any Murder film without Emraan, but that's just us. What do you think? Is Randeep the right replacement for Emraan?