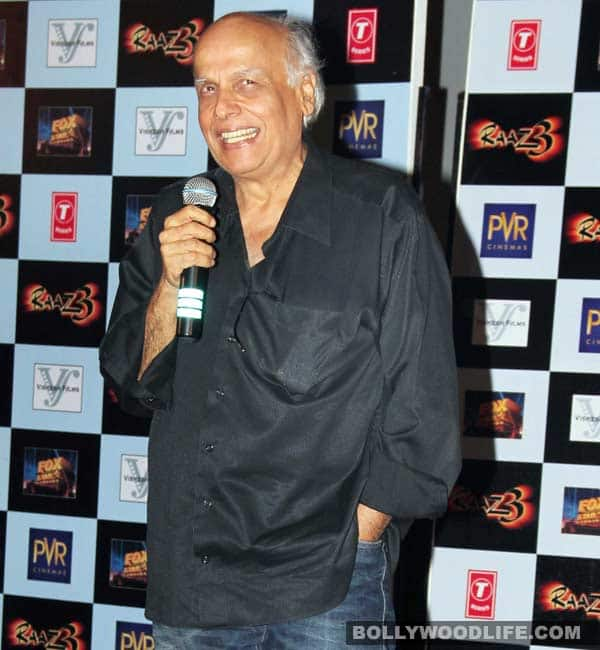 The veteran filmmaker is happy with the BO result of his latest erotic thriller, but he has already moved on to his next boo-fest, Raaz 3
Mahesh Bhatt is a bundle of energy and has lots to say about everything under the sun. He gets angry when he is constantly asked why he does not make films like Arth and Saraansh any longer. And he admits that he wouldn't watch the films that his production house has been churning out. In a free-wheeling conversation, Bhatt Sr spoke about much more than just his forthcoming Emraan Hashmi-Bipasha Basu-Esha Gupta starrer…
What do you have to say about people who were disappointed by Jism 2?
This is really amusing, because there was a faction of people that thought that we were corrupting the moral fabric of our holy nation by making a film like Jism 2. People were up against us for making Jism 2, and now they say that there wasn't enough of sex in it! Some said that it wasn't racy enough for a thriller. We wanted it to play out like a one-day cricket match, but people are not patient enough; they wanted a 20-20 (laughs).
People were blaming me for stripping Sunny Leone (the star of Jism 2), but it is the people who wanted her to strip. We made a conservative film. All said, we made the film for Rs 12cr and recovered Rs 15cr. It is none of my business if people lost money by buying it for exorbitant prices. If you have invested all your money on a horse and it loses the race, do you shoot the horse? Pooja (Bhatt) is celebrating the success of Jism 2, but for me it is a closed chapter. I have already moved on to the next…
People are saying that Jism 2 isn't a hit, because it didn't make Rs. 100cr…
This 'Rs. 100cr Club' is a huge myth that has been created by the media and the corporate production houses. I think it is overrated and most of the time it is fake. If so many films make this kind of money, then where does it all vanish to? There have been films that have made huge money in the past, but this is a new phenomenon and is largely misleading.
Why this fixation with sequels?
I will give you an example. A close friend of mine passed away in an accident. After the final rites, we asked the wife of the bereaved how she would fend for herself. She had two options: Either open a new restaurant or take the franchise of Mc Donalds. We suggested her to choose the latter. These are the days of brands and consumerism. If she had chosen to open her own restaurant, it would take her years to make a name for herself.
It is a safer bet to build on brands that people are aware of. If we have created a successful product, why not make the most of it? We can be secure that at least a fraction of the people who watched and liked the first film will watch the sequel. There is a flip side to it as well – people might not like the sequel, but once they come and watch the film, our job is done.
You are a reputed brand in yourself; why not make the kind of films that you are respected for?
I am one filmmaker who has burnt his fingers trying to make films for the longest time. Not very long ago I made Dhokha – a film that highlighted the plight of the minority community in their own country. Nobody had the balls to see a film like that. You might say that people didn't watch it because it was a bad film. No, it wasn't a bad film, just that it wasn't one of those films you would go and watch with your girlfriend on a Sunday evening.
All people want is instant gratification. If that is what you want, we will make just that. At the end of the day, if you make money for your employers, they will pay you a fraction of what they made off your effort. We are all prostitutes… isn't that how it works? You sell your goods to somebody and in the end are paid a fraction of the amount the pimp makes… As a filmmaker I have to keep my investors happy to keep my job. As long as we make money for somebody, we are in business.
Of late, you have been referring to your films as 'products'. What happened to cinema?
I learned my lesson late in the day, but that is the fact. Films have become a product with a very short shelf life. I made films that I believed in, but nobody showed up to watch them. Everybody talks about classics, but how many have actually read them? Today the DVD of Arth is sitting on a shelf close to that of a bathing soap. People can buy them both under one roof. Isn't that proof enough that cinema is a product?
Raaz 3 has a theme similar to that of The Dirty Picture and Heroine…
Let me give you an example. I made Arth in 1982, after the release of the Amitabh Bachchan-Jaya Bhaduri-Rekha starrer Silsila. People asked me, who will watch your film? It has Shabana Azmi, Smita Patil and Kulbhushan Kharbanda – all ugly people. But it worked; it was one of the first few films that got India an international honour.
Initially you didn't work with stars, but these days most of your films star Emraan Hashmi…
Emraan Hashmi is a well that I have dug; he is a tree that I have planted. Today if he is a star, why blame me. I have groomed and mentored him. Recently I made a film (Blood Money) starring Kunal Khemu; nobody watched it. It was a good film, but it tanked. We will only make what people want to watch. We might fail many times, but some of our films work. It helps that we make many films, so our success ratio looks better.
These days offbeat films like Gangs of Wasseypur and Kahaani are also working. There are filmmakers all over the world making realistic films. What is stopping you?
I am tired of answering this question over and over again. Tell me, how much money did Gangs Of Wasseypur make? Was it a huge hit? Let me tell you that I am as intelligent as other filmmakers who make realistic films are, but I have an audience that I am catering to. I will make films that nice people like you pay to watch and then crib about (laughs).
ALSO READ: Why has Esha Gupta lost weight?