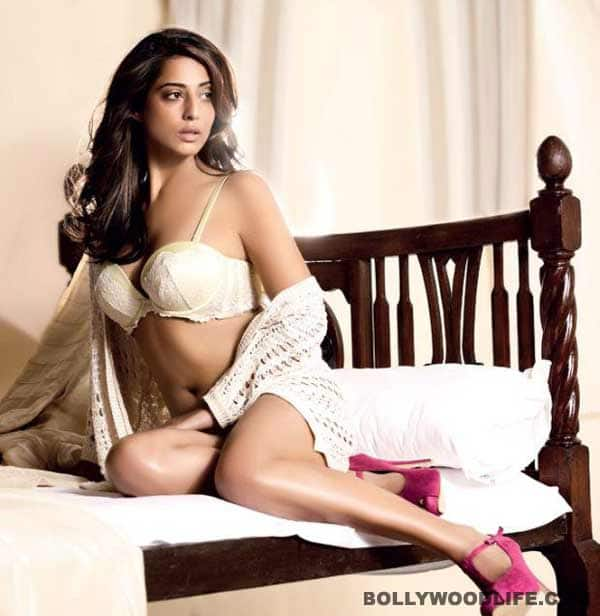 We met the Gang of Ghosts actor at the Venus Films office and spoke to her about life and films. Mahie also told us about her preferences of roles and why she respects actors who do item songs. Read on to know why…
Mahie Gill has been synonymous with roles having a grey shade, whether it is Sahib Biwi Gangster or Zanjeer. The actor spoke to us recently about her upcoming release and how her career is shaping up. Excerpts from the interview…
Tell us about your character in Gang Of Ghosts?
The character I am playing is called Manoranjana Kumari. She believes in only one thing 'manoranjan, manoranjan, manoranjan'. She is a '50s heroine and I got to relive that era through this film. It was good because heroines of that time were complete in every manner as they used to sing, dance, perform, etc, which is not that common these days. Our director, Satish Kaushik had asked me to keep Meena Kumari in my mind but I imbibed characteristics from Suraiya, Geeta Dutt, Geeta Bali and others of that like.
Your film is a remake of the Bengali film Bhooter Bhobisyot. What are the similarities from the original character and what all changes have been done to suit the Hindi audience?
I have not seen that film, so I won't be able to comment on that. But I know for a fact that there have been certain changes done so as to suit the Hindi commercial audience. For example, the character that I am playing is dancing and singing even in the present day, which was not there in the original as I have heard. Also I have a lot of costume changes, which I have heard was not done in the Bengali version.
The title of the film suggests Bhootiyapanti, means a lot of fun. So you had any such funny incidents on the sets during shoot?
Lots of incidents are there. Satish Kaushik and Anupam Kher have been very good friends and when they two are together it is the best time you can have. They constantly make you laugh. Their leg pulling antics and their superb witty comic sense make you guffaw although.
This film is all about ghosts. Do you believe in ghosts at all?
Yes, I do believe in ghosts. I have been staying in hostels all my life and you obviously know what all sort of horror stories keep cropping up in hostels. I watch a lot of horror films and enjoy watching them. But I am perennially scared and many a times when there is no one at home I prefer switching on the lights and sleeping.
You have always played the female seductress, but this film looks different. So was this like a breather that you are able to break the stereotype roles that you used to play?
I don't know how I end up always playing such kind of roles, where I am the female seductress. Even this film is no different. Here also everyone is after me. But for a change, this is different as this is a comedy and there are no intimate scenes. I have never tried the comedy genre before.
Do you feel nowadays there is a lot of scope for female actors?
Yeah, it is true. People have changed their attitude towards cinema. Scripts are different nowadays and people don't mind seeing female leads. People are enjoying such kind of newness in the scripts and it is commendable.
You have always done unconventional roles and never done a lot of mainstream. Is that a conscious decision?
Not at all! It is just that I used to keep getting such kind of unconventional roles and I keep on doing them well, so people kept coming to me with similar roles. I would definitely want to do some of the mainstream roles that you are talking of. I don't get any romantic roles. I mean it's weird that they ask me to be the female seductress but they don't ask me to do any bit of romance.
Which role do you feel as the most close to your heart?
All are close to my heart but to be honest Dev D will always have a special place because had it not been there, I would have not been sitting here today.
Coming from a small town how difficult is it to survive in this city and especially in Bollywood?
Don't ask. It was grueling. I come from a very protective environment and my family was not very sure whether I would be able to survive here. At home I was always used to getting things done for me, now I have to do things on my own. So that was the most difficult part as they had to be convinced and then I was allowed to come. It is difficult but I believe that Bombay gives a chance to everybody. So patience is the key to success.
You have done item songs before. Many heroines don't prefer doing them and feel it is a bad representation of women. Don't you feel that way?
Firstly, I would not term the songs as item songs as they are situational songs. And I don't find anything wrong. If there is anything interesting in them I am always game to do them. I love watching Katrina Kaif dance to Chikni Chameli. When I watch her perform it transports me to a different world. I like to dance like her. I like to enjoy the moment just as much as she is enjoying. There is nothing wrong in such songs. To be true, I personally believe that performing such a dance is way more difficult than acting. Matching your steps with others, lip syncing the songs and looking perfect in every shot is very difficult. Along with that you have to have your energy levels high and also keep in mind the camera angles. It is the most difficult thing to do. So I respect it.
So you are saying you get inspired by watching other heroines?
Not inspired, but I appreciate their work. Every year some or the other heroine gets a great film and gives a great performance and I start liking her a lot. Last year it was Deepika Padukone, before that it was Priyanka Chopra and Vidya Balan. So with every film and every performance that I like I feel like appreciating them.
So among all these roles that you are talking about, which role do you think you would have done better?
To be honest I have not seen many films in the present days, but still if I have to name one film, I guess I would have done Kareena Kapoor Khan's role in Jab We Met better than her. Kareena did a fantabulous job in the film as Geet, but I think I could connect with the role more as I am Punjabi and the role was also similar to how I am in real life.