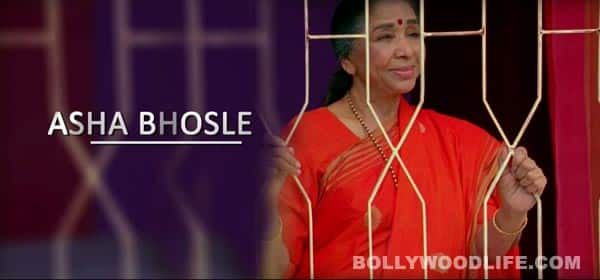 Asha Bhosle makes her acting debut at the age of 79 in her upcoming Hindi film Mai. The veteran singer portrays a woman who decides to live with her daughter and son-in-law after being abandoned by her own son
Veteran singer Asha Bhosle's upcoming film Mai's theatrical trailer may give you the feel of  Amitabh Bachchan-Hema Malini-starrer 2003 movie Baghban – the story revolving around the predicament of aging parents abandoned by their children. If Baghban ends with a good-hearted orphan (played by Salman Khan) giving shelter to the old couple, Mai it seems takes the story forward exactly from that point, in a much more realistic way.
So you have Padmini Kolhapure's character taking up the responsibility of her mother (Asha Bhosle) when other siblings hesitate to create space for her in their nuclear families. The story is then propelled forward by the plight of the daughter who faces the challenge of co-existing with her aging mother.
Ram Kapoor plays the pragmatic husband who is not particularly impressed with the idea of bringing his mother-in-law into his house. Even the couple's young daughter is struggling to cope with sudden changes brought about by the hasty arrival of a new member in the family.
Ever since the announcement of the film was made we were curious to see Asha Bhosle trying her hand at acting.  And we must appreciate the senior singer's ability to challenge herself at this age and push the envelope.  We know that Asha ji is known for her unbelievable energy levels as well as for her incredible zest for life. And now, in her debut film, the singer-turned-actor, however a bit camera conscious, seems to have  done justice to the role.
Promising to be a tear-jerker, the film is directed by Mahesh Kodiyal. Mai is set to release on November 23.