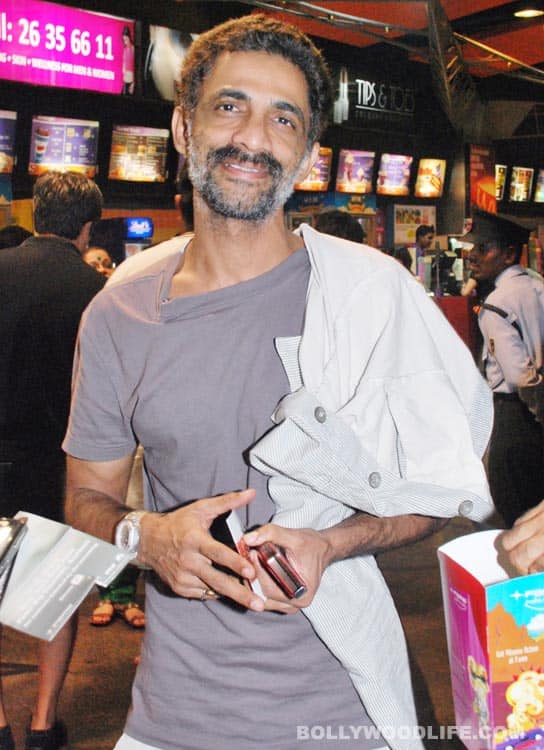 A theatre enthusiast and performer par excellence Makarand Deshpande enjoys living life on his own terms. After over 40 films and innumerable plays, the actor-director-writer is hungry to experiment even more. Theatre is his first love; film acting a perpetual second choice. And combining both has given him a colourful portfolio that he admits happened to him, luck by chance…
When he is not busy doing theatre, you will find Makarand Deshpande in films. "Honestly speaking, I do films only when I need money to run my theatre company, Ansh, otherwise I am comfortable doing plays, directing them or writing them. Theatre is the medium I love most," says the 45-year-old multitasker. His curly mop of hair bobs up and down as he speaks, complete with theatrical gestures. Be it his portrayal of a goon in the Aamir Khan starrer Qayamat Se Qayamat Tak, a lawyer in Ram Gopal Varma's Satya or a fakir dancing with Shahrukh Khan in Ashutosh Gowariker's Swades, Makarand Deshapnde has always stood out for the quirky characters he sketched on the big screen.
Even today Makarand chooses to do the smallest roles possible. That gives him time and flexibility to dabble in stage plays. Generally, when film offers dry up, theatre throws up opportunities for actors to sustain the performer in them, but for Makarand it's exactly the opposite. "The only thing I love about working in films is the fact that I get to travel while shooting," he says with naked honesty.
Does he mean that film acting is boring? Most stage actors believe that theatre is the last word in acting and that an actor is incomplete if he hasn't done enough theatre. "I don't think so. Acting for the camera is special; its demands are different. In front of the camera an actor needs to perform in cuts with the same intensity and ensure that the required emotions are intact, cut after cut..If you enjoy acting with constant interruptions and the pull of a scene, then this is the medium for you. These cuts in films make the actor in me wait. Theatre allows me to be in the moment without interruptions. It's all about hitting that moment. Film acting is a tough job, because you have to maintain consistency. And continuity is a major challenge. Though a recorded form, cinema acting requires a set of skills; theatre on the other hand is soulful and it gives you a constant reality check."
Recently seen in Bbuddah Hoga Terra Baap, a film that fulfilled his long-time wish of working with Amitabh Bachchan, Makarand played a role of a local mafia don. "There wasn't a great scope to perform in that small role, but I enjoyed the experience thoroughly. On the first day of the shoot with Amitji, I remember, I hesitated a lot even to say hello to him. It's like you love somebody, you look up to that individual and start venerating him unconsciously to the extent that the individual acquires a demi-god status and you don't want to work with that person. After all, he's your idol. But as time progressed, Big B himself walked up to me. Pointing his finger at me he humorously and said, 'Chalo ab mahan logon se milte hain (now let's meet some great people)!'. He was very comforting. He put me at ease."
So did the veteran artiste learn a lesson or two from the heavyweight of the silver screen? "More than acting, I enjoyed interacting with him on the sets. His way of preparing for a scene is amazing and the efforts he puts into his performance are awe-inspiring. He's a fantastic orator, a gifted speaker with a tremendous mastery over the language he speaks in. His sense of humour, his timing and his articulation…everything works wonders for him, which eventually gets reflected in the final result. I think the reason why he's a great actor is because he doesn't do much and yet the impact is massive. I enjoyed it thoroughly – one of the greatest experiences of my life!"
As someone who has immersed himself in stage plays and is in close touch with films, how does Makarand see acting on Indian stage as well as in cinema evolving? "Aaj logon ko aise lagne laga hain ki kuch na karo to natural acting hain. [Today people think if you don't do anything, it's natural acting] I want to tell them that passiveness is not natural acting. There is nothing wrong in being loud in your act. Loud doesn't mean unreal. It's a question of how little you can do, yet be effective, because the camera can read not just you, but through you. And nowadays the new filmmakers are intelligent enough to use techniques and camera lenses that can catch your best emotions. So you don't need to do much; rather, you do less and they will catch it better. One needs to be educated enough to understand how to use a restrained performance."
With his facial fuzz, curly hair and lanky frame, Makarand has always been considered a serious actor. Does the presumption bother him? "They call me a serious actor, but tend to giggle at the characters I perform on the screen. I believe that the audience sees a touch of sarcastic humour in my acts but, trust me, it's not deliberate. It's something the audience tends to extract from my performance. I enjoy my ability to make audiences laugh, even if it is for a fleeting moment and even in my most tragic plays. I suppose it's my persona that makes people presume that I am serious, but I don't take life seriously. I never thought of becoming an actor. I was a sportsperson. It's only after college that someone asked me to play a part in theatre. One thing led to another and a career in acting simply happened. I consider myself fortunate for that. I don't have dreams of winning an Oscar or a Golden Globe or, for that matter, a National Award. Considering the actors who have received these so-called 'prestigious' awards, I don't aspire to win them at all. I just want to work towards what I believe in with conviction. If I get money for that, I am fine, and if I don't, then that is equally fine with me. I want to live with more colour in this life rather than leading a boring, one-dimensional, drab and routine life." concludes the eccentric actor.