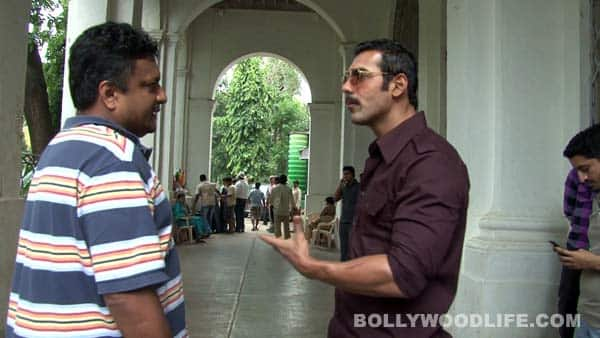 The hunk clears the air on why he initially refused to play the dreaded gangster but later took up the challenge 'coz he wanted to change his image as an actor
Sanjay Gupta's Shootout At Wadala seems like a complete John Abraham film. The hot hunk is glad to have got the opportunity to play the real-life dreaded gangster onscreen and depict how he changed the face of Mumbai underworld in the '90s. In this video of the film's making, John discusses about how he and Gupta zeroed in on the script of Shootout At Wadala and how the film eventually materialised.
"The first day I met Sanjay Gupta, he was reading a newspaper article about Bombay gangster Manya Surve. I read the article, looked at Sanjay and told him this is the film we should make. Ironically, when I read the script, I told Sanjay that it's not possible for me to do this. It was very difficult," says John and adds, "I wasn't sure whether people will accept me as Manya Surve. I was very scared, worried and stressed, and it was a make or break situation for me. These roles don't happen every day and I have taken it up with utmost seriousness. The progression has been from very basic to being Manya Surve. It's a role of a lifetime."
One can see Sanjay and John heavily engrossed in filming an interesting gun battle sequence where the police is chasing Manya. In another, John is seen combating Anil Kapoor in a police van. Sanjay looks quite satisfied and pleased with John's action and his dedication. The dude is seen rigorously working out on the sets, doing push-ups and running on the streets bare-chested flaunting his beefed-up body. Watch the video which is full of action, action and only action, and tell us if you think John will walk away with all the accolades for his Manya Surve act!
[jwplayer mediaid="211261″]