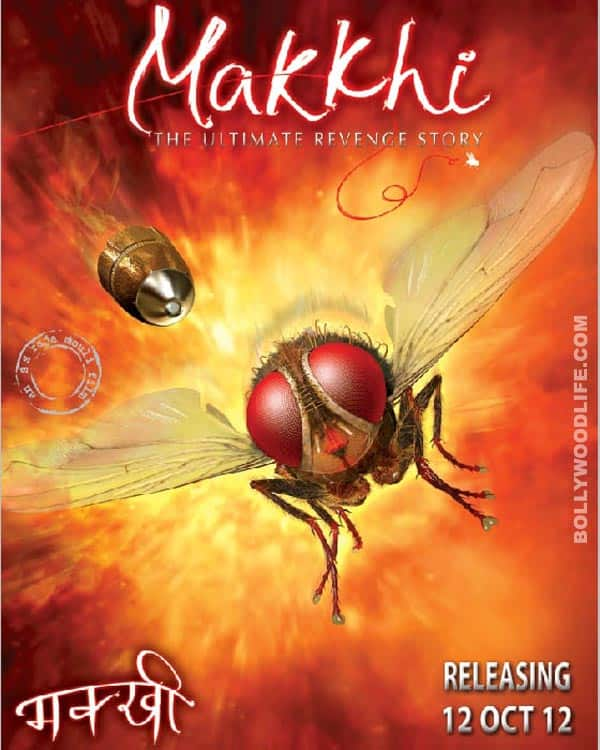 Who thought a teeny-weeny fly could carry a whole movie on its delicate li'l wings and six fragile legs!
When we heard the core concept of the film, the story gave us uncontrollable giggles and made us wonder if it's going to be worth the watch. But honestly, films like these are meant to be seen and enjoyed rather than relying on half-cooked narrations. Director SS Rajamouli sprinkles the right amount of Southern spices on to some interesting animation and brilliant visual effects. He fills his cauldron with comedy, melodrama and a helluva lot of vindictive antics – which obviously is the magical mantra for delivering a hit film.
The movie starts with the clichéd love story of Nani (Jani) and Samantha (Bindu). Jani chases his lady love to the point of irritation, but obviously Bindu-like, any conventional heroine basks in the attention. The predictable twist in the film arrives when Sudeep -the villain, the Casanova, the extremely hot but ultimate bad guy – enters the frame and donates a generous Rs 15 lakh to Bindu's NGO. Well, the intention behind his generosity is to fulfill his carnal desires, of course! Also, it becomes a challenge for him to get this comely chick to fall for him, especially when none of it impresses her – neither his bank balance nor his hero-like personality. But soon after figuring out that someone has already reserved a place in his object-of-desire's heart, the baddie kills Jani ruthlessly by stomping him under his feet and feels his heartbeat come to a gradual halt.
We didn't realise that fun was just around the corner until Jani miraculously takes rebirth as a vindictive fly. The adventures of Makkhi and the passion with which he flutters his wings with rage truly exemplifies innovation. Bindu, who's a micro-artist in the film, equips this tiny creature with iron claws and masks and creates tiny dumbbells for him so that he becomes physically stronger in order to take revenge – now isn't that super cute and funny?
People who are suckers for creativity must watch this film. Every move of the protagonist Makkhi, right from the way he communicates through his skeletal legs and burns with excruciating anger, shows that a great deal of research and brainstorming went into creating a powerhouse performance by a small piece of dynamite. SS Rajamouli comes up with a spark of brilliance and his film quite effortlessly earns the label of an entertaining weekend watch…so go ahead and watch it!
Rating: 3.5/5
* Poor – Avoid!
** Average – Give it a shot if you are desperate!
*** Good – One time watch!
**** Very good – Must watch!
***** Excellent – Don't miss!