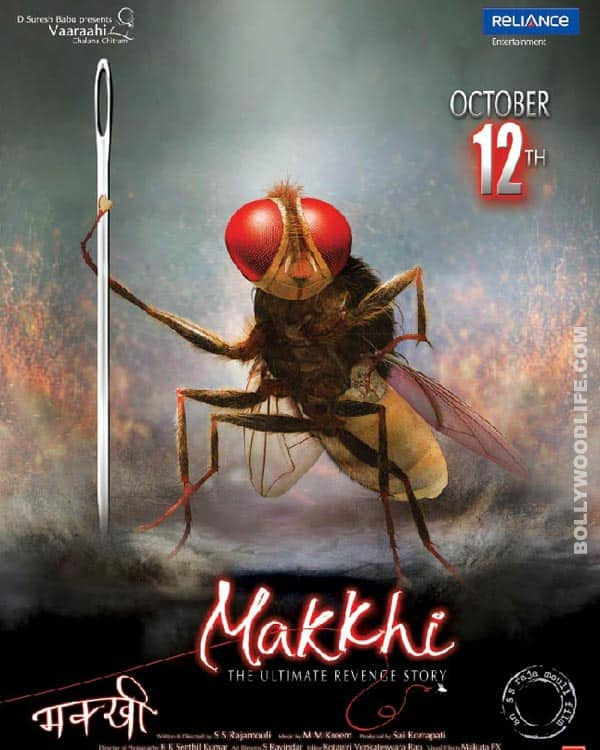 Rani Mukerji's Aiyya faces competition from Makkhi as the Hindi version of South blockbuster Eega releases on October 12
If you thought South superstar Rajnikanth and Bollywood superstar Salman Khan's movies were far-fetched and beyond logical comprehension, then hold on. After making cash registers go ka-ching ka-ching at cinema halls in the South, SS Rajamouli's Eega re-titled in Hindi as Makkhi releases for the Hindi audience on October 12.
The live action animated flick is a love triangle between Jani (Nani), Bindu (Samantha Prabhu) and Sudeep (Sudeep). From the trailer it's obvious that Jani and Bindu fall in love, but a prem kahani has to have a villain, and in this plot Sudeep plays the bad guy. He's smitten by Bindu and as soon as he finds out that she is in love Jani, Sudeep kills him. Like true filmi romance Jani returns just that this time around the hero reincarnates as a fly! And the fly wants to seek revenge of his death and protect his ladylove from the bad guy.
And that's what makes the conventional prem kahani unconventional! What's more? Makkhi's an animated equivalent of Rajinikanth and Salman Khan when it comes to action. The tiny fly makes life hell for the bad guy and his burly henchmen, manages to escape a bullet twice its size and targets its enemy's pupil for a ruthless kill!
We don't know if Makkhi will give a tough fight to Rani Mukerji's Aiyya at the box office, but Makkhi does make an interesting fare for audience looking for some mindless entertainment.