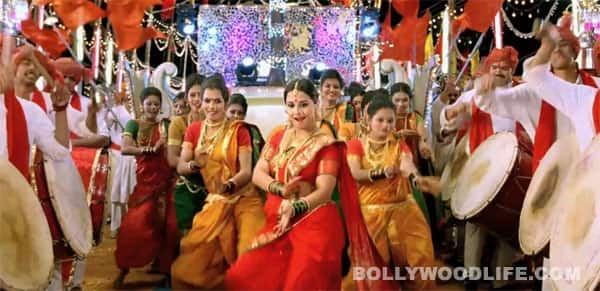 Watch a rounded Vidya Balan shaking her heavy belly and bottom in this visually electrifying number

Perhaps because her 'mighty' presence is the only thing that occupies the screen, we just could not take our eyes off Vidya Balan! Wrapped in a blood-red Nauwari sari, Vidya makes this peppy number absolutely electrifying. Mala jau de is an authentic Lavani and Vidya's dancing hips have done complete justice to the thumping Marathi tune and its power-packed lyrics.
When the producer of Ferrari Ki Sawaari Vidhu Vinod Chopra called Vidya and hesitantly asked her if she would like to do an item number-cum-Lavani in his film, the Kahaani actor replied in the affirmative immediately. "It was so silly of me to doubt that Vidya would not be sure about doing this number. When I called her up I was highly unsure about her interest in doing a Lavani. But much to my surprise, Vidya agreed to do it instantly. She was like, 'I have been waiting for years to do a Lavani. I just can't let this opportunity pass. I will do it for sure!'," said Chopra
So here we have Vidya, struggling to contain her jiggling belly in the heavy sari. She's dripping with gold from top to toe. The big bindi and gajra add the much needed tadka to her look. Amidst the beats of the dhols and saffron flags fluttering in the air, Vidya's booty-shaking act will surely be lapped up by the audience.
Ferrari Ki Sawaari is a heart-warming tale of pure and innocent bonding between a father (played by Sharman Joshi) and his son. It revolves around a young boy's dream of playing cricket at Lords and how his humble father makes it reality.
The film stars Sharman Joshi, Boman Irani and newcomer Nilesh Divekar and is directed by Rajesh Mapuskar. It is slated for release on June 15.