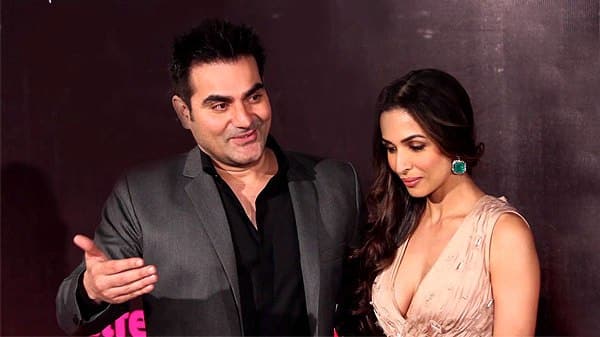 After months of uncertain reports, Malaika Arora Khan and Arbaaz Khan finally called it quits. The couple was spotted outside Bandra Family Court as they filed for their divorce. They have been married for over 18 years but looks like it's an end to their marriage. The word on the street is also that they have fallen out of love and that Malaika has moved on. Ever since reports of their separation began, a lot of unwanted gossip has also come out in the open. From affairs to family pressures to a lot of other reasons kept bringing Malaika and Arbaaz in the headlines. However, with the couple finally deciding to leave each other, we have compiled all the shocking conspiracy theories revolving around their divorce.
# No smoke without fire: The fact that Arbaaz Khan in his recent Instagram post confirmed this news and in a 'LOUD' and 'CLEAR' announcement said that his personal life was nobody's business. Even on Valentines Day when Malaika posted a picture that screamt LOVE, Arbaaz seemed happy in the company of his dumbbells in Maryland. The actor-turned-filmmaker even shared a picture of a book we assume he's reading (How To Hug A Porcupine, Easy ways to love difficult people in your life) that summed up hi state of mind. And yes, both Malaika and Arbaaz's absence from Arpita Khan's baby shower was a tell-all sign.
#An Affair To Remember: In terms of affairs, both, Malaika and Arbaaz set eyes ogling with the progress in their romantic lives. While reports of their love dying down was the prime reason reported, new tales started popping up. There were reports that Malaika was having an affair with a rich Brit based businessman. On the other hand, Khan's alleged relationship with Yellow Mehra. After pictures of Arbaaz and Yellow surfaced on Instagram, sparks of inquisition started flying about. Their closeness in the pictures further propelled the theory that perhaps they were an item. With both the parties already moving on only weeks after news of separation further resulted in a lot of eyebrows being raised. (ALSO READ: Malaika Arora Khan finally OPENS UP on her affair rumours with Arjun Kapoor)
In fact, later on, Malaika's roaring affair with Arjun Kapoor created more furore. Although, very recently she confronted about the Kapoor affair and stated how they are just good friends. However, when it comes to juicy gossips like these, mongers are obviously mooching off of it.
#The Khan khandaan's intervention: The Khan family was totally against the couple's decision to call it quits. On various occasions, it was noted that Malaika was missing while the complete family was present. Sometime ago, reports that over familial pressures, the couple were to rework on their relationship. Some reports also stated that even Salman Khan intervened and tried to persuade the diva to not go ahead with the idea of divorce. All the family members, including sister Amrita Arora Ladak spoke to the couple to resort their issues and get back together. (ALSO READ: Salman Khan IGNORES Malaika Arora Khan at Kareena Kapoor Khan's party – find out why)
#Reconcile for the son: For the sake of their son, Arhaan, the couple did consider coming back together. We even shared pictures of the duo at their son's birthday party that took place recently. While in one picture, Arbaaz and Malaika were together with their son, in another group pic, both of them maintained distance. Clearly, even in the pics, you could see the tension between them. However, just for their son, the duo were to reconsider their decision of divorce. That again, became talk of the town as it was a big deal and everybody wanted to know whether their reunion was for the time being or forever.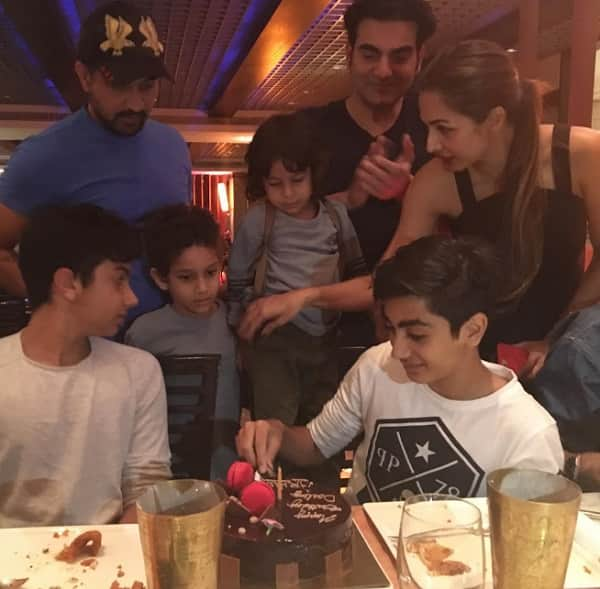 (ALSO READ: Arbaaz Khan and Malaika Arora Khan come together to ring in son Arhaan's birthday – view pics)
#The FAKE split: In 2008, Arbaaz and Malaika courted controversy over an advertisement. Yes, the couple was going strong and as a publicity gimmick for a beauty product brand fake rumour of their separation turned ugly. Arbaaz in an attempt to redeem himself from this act had said, "Salman doesn't care what is written about him. I'm not that kind of guy. I'm very particular about the way I conduct myself, especially about my marriage. Suddenly, I find myself fighting a lonely battle to redeem my wife and my image." The brand's PR team had shared messages with media house confirming that the couple had split. The plan was to get them to reunite at the brand's event the next day. But it was too late and Malaika and Arbaaz were accused of being publicity hungry. Arbaaz had in his defense said, "All we did was to go along with the multinational's campaign. Is compliance a crime? Then we're guilty. And I apologise."
After almost 18 years of marriage and so many ups and downs, the couple seems to have actually called quits. Stay tuned to this space as we'll bring hot scoop on what's next for Malaika Arora Khan and Arbaaz Khan after their split.
Malaika Arora Khan and Arbaaz Khan's divorce has been one of the most shocking news this year

Malaika and Arbaaz who met during a coffee shoot and got married in 1998. They were one of Bollywood most loved couples who are now sadly getting divorced.

Arbaaz Khan confirmed this news on his Instagram account

Arbaaz made a statement saying that his personal life was nobody's business. This statement clearly indicated that the duo was heading for a split. Even during Valentine's day when Malaika posted a picture that screamt LOVE, Arbaaz seemed happy in the company of his dumbbells in Maryland.

Malaika Arora Khan's roaring affair was said to be the reason for their split

Though it was never out in the open, reports suggested that Malaika had a roaring affair with this young hero who was very close to the Khan khaandaan. In fact, recently a leading daily even suggested that post rumours of Malaika's split she met her ex with warmth.

Malaika Arora and Arbaaz Khan's fake split in 2008 just got real

Arbaaz and Malaika controversy over an advertisement went ugly. Yes, the couple was going strong and as a publicity gimmick for a beauty product brand, fake rumour of their separation were spread. Sadly the couple split this time is for real.

After 18 years of marriage Malaika Arora and Arbaaz Khan have decided to split

The Bollywood star couple have confirmed that they have separated and are "taking out time" to figure out their lives. The couple have been married for 18 years and also have a son, 14-year-old Arhaan. Seeking privacy after announcing separation, Arbaaz requested one and all to leave them alone.

Malaika Arora Khan posted a picture to wish Arbaaz Khan post this news

There were rumours of reconciliation between Arbaaz and Malaika when she was spotted celebrating Eid with Arbaaz's family. Malaika was also a part of the customary family photo at the festival. And later the actress came up with a special birthday wish.

Despite all the efforts Malaika Arora Khan and Arbaaz Khan called it quits

The couple has been on and off for a while now. Inspite of taking time off, the couple could not reconcile their relationship. The couple initially tried sorting it mutually but towards the end of the year filed for a legal divorce.

Malaika Arora Khan and Arbaaz Khan were recently spotted outside the family court

Malaika and Arbaaz's divorce proceeding begin. The actors were recently spotted at the family court.

Arbaaz Khan doesn't seem to be happy with Malaika Arora Khan's link up rumours with Arjun Kapoor

A recent photoshopped picture of Arjun Kapoor and Malaika Arora Khan have been doing the rounds lately. Well there is no smoke without fire. As Arjun was spotted outside Malaika's residence this picture was considered to be of that day and it went viral.

Malaika Arora Khan and Arbaaz Khan's divorce to be finalised on May 11 next year

The couple reportedly attended their first mandatory counselling session on Tuesday morning at the Bandra family court. It was also attended by a marriage counsellor and the judge who were assigned for this case.The matter will now be taken up on May 11 next year, which means they have been given six months to contemplate on their decision.