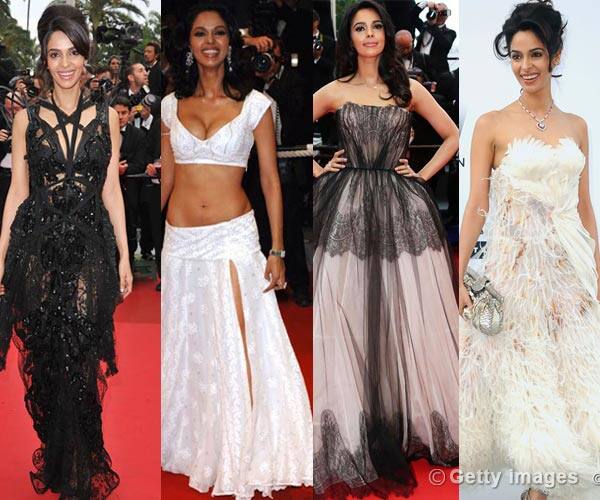 skip advertisement
Mallika Sherawat didn't disappoint with her first appearance on the red carpet at the Cannes film festival this year. She walked with some of the most sought after stars from Hollywood. Read on to find out more…
The 67th Cannes Film Festival kick-started on May 14 with the grand opening ceremony for Yash Raj Films' Grace of Monaco. As fans and shutterbugs thronged to see their favourite stars walk the red carpet, our hearts were beating a bit faster than usual as we were worried about Mallika Sherawat's outfit for the occasion. In the past, Mallika has shocked us with her outrageous outfits at Cannes. We take a look at Mallika's previous outfits she has donned at Cannes in the past.
The Hiss actor went for the first time to Cannes with her first ever international project The Myth and the film remained in news because it starred Jacky Chan. On the red carpet, Mallika was seen in a white thigh-high slit ghaghra choli. Yes you read that right. The ghaghra had an unflattering slit and the skimpiness looked unnecessary. She even gave the cameras a peek at her derriere. *facepalm*
She attended Madagascar 3's screening in a nude backless gown which, yet again, gave us a glimpse at more than what we wanted to see. At the 64th Cannes Film Festival she wore a white feather dress and looked like a chicken. At another instance the Ugly aur Pagli actor put on a black see-through gown and gave us a good look at her underwear. After all of Mallika's appearances which mostly featured one or the other asset, we were quite frankly sick of seeing too much of Mallika!
Fortunately, the God of good dressing sense struck Mallika and for the 66th Cannes Film Festival she wore a lovely black and white off-shoulder lace gown!
This year, our worries were hushed as we saw a ravishing Mallika walk the carpet in a beautiful blue lace Emilio Pucci gown. She looked radiant and demure in the gown which she paired with gorgeous diamond earrings. We digged the minimalistic yet sophisticated look. Kudos to Mallika!
The Murder actor walked the red carpet with some of the hottest stars of Hollywood like the Avatar actor Zoe Saldana, Blake Lively and the Grace of Monaco actor Nicole Kidman. We were thoroughly impressed by Kidman's ornate strapless outfit. Gossip Girl actor Blake Lively brought oomph to the carpet with her Frida Gianni burgundy gown that had a thigh-high slit. Zoe Saldana looked lovely in her Victoria Beckham gown and Louboutin heels.
We hope to see more style statements getting set at the Cannes red carpet this year. Keep watching this space for more updates about Cannes!