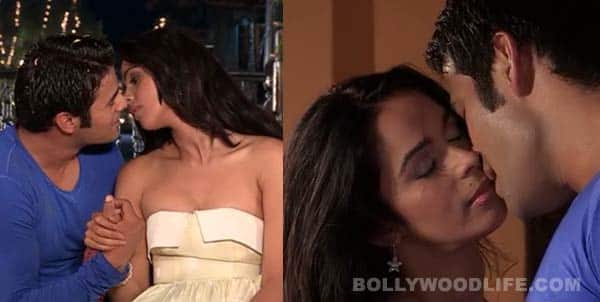 The controversial babe spins a new controversy and this one will not die that easy
The bachelors on The Bachelorette India Mere Khayalon Ki Mallika have been vying for their lady love's attention and affection. However, not all of them get that lucky. In every episode, one suitor gets the chance to go on a date with Mallika Sherawat – sometimes it gets romantic while very often the babe just gets to know more about her suitor. However, today it will be very different.
The new task for the suitors is to envision a dream date for Mallika and to give her a special treatment. The five boys left in the competition try their level best to woo her but only one gets lucky. Here what the boys did for Mallika:
Bivas Biswas: The daddy in the group organises a horse riding and a picnic date near lake side. Really…? A lunch date is so not romantic Bisvas!
Vijay Singh: The wannabe actor organises a candle lit heart shape sitting. Wish we had a little more information on what he really did 'coz it seems to have worked wonders for him.
Jashan Singh Kohli: The ever cheerful sardar created a barbeque setting for his lady love. He then arranged for a swing besides the pool where they sat and got lost in conversation… Awwww..!
Vinay Jhambh: The possessive dude in the group takes Mallika to a theatre for a romantic movie. They share popcorn from one tub – cheesy, no?
Karan Sagoo: The dishy dude arranges a Moroccan set up and lovely candle light dinner – very traditional!
If you ask us, all the guys have taken a lot of effort to make the evening special for Mallika. But only one dude got lucky. It seems after her date with Vijay, Mallika ended up locking lips with him. We really didn't see this coming, considering how the channel insisted that they have shown nothing bold on the show. Well we think kissing a stranger on national TV is pretty bold – guess its all a part of the act. Lucky Vijay! What do you think Bollywoodlifers?