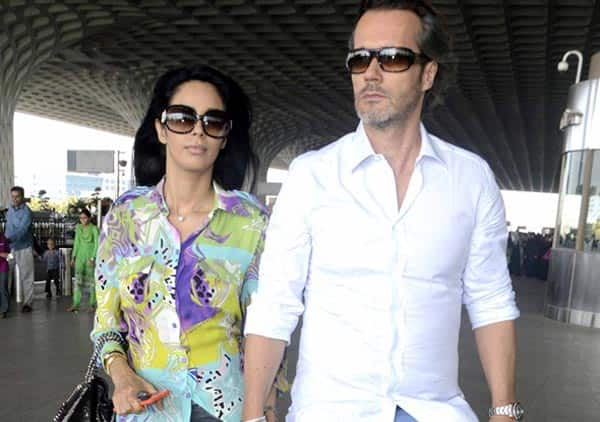 Mallika Sherawat has been missing from the Bollywood scenario for quite sometime now. The actress known for her bold and sexual avatar in movies like Murder is currently juggling between Mumbai and Paris. Yes the actress is dating a French real estate magnate Cyrille Auxenfans for over two years now and the couple is extremely serious about each other now. She seemed to be quite smitten by him and that's the probable reason why she initially didn't mention anything about him for several months. It was only a year ago that she revealed his name and confessed that he's a special person in her life. So while the actress has no plans of getting married to her beau anytime soon, reports by leading tabloid suggests that she's planning to have a baby with him. We like the way Mallika didn't wait let rituals and traditions come in between her love for Cyrille and the couple is matured enough to take such an important step together. Also Read: Mallika Sherawat is not getting married to beau Cyrille Auxenfans
We remember the day she announced his name to her fans and we all were stunned after her revelation. There were reports immediately surfacing that the actress has planned to tie the knot soon and congratulatory messages were pouring down for her. However she later clarified this by saying , "STOP spreading rumours. It's NOT true! The day I get married, you all will be invited". She further tweeted, 'It's NOT TRUE. Please don't spread rumours.
There were reports that she has secretly married him after the speculations were rising that he gifted Malaika a luxury car. Talking about her relationship to a leading portal, Ms Sherawat confessed that she met Cyrille through a common friend after which they started dating each other. The actress was quoted saying, "I am proud of him and will soon get him to Mumbai. He has shown Paris to me and has romanced me the French style, now I will romance him the Indian style! I will take him to the Taj Mahal, and make him have street food. You know the typical Indian flavour, that's what I want to do." Sweet isn't it? Also Read: Mallika Sherawat looks smoking hot at the opening ceremony of Cannes Film festival – 2016
So is the baby news true? Malaika's spokesperson responded to this news by saying, "They are happily living in." Ok we agree they are happy but what about the baby? Well looks like we'll have to wait for this doting couple to make an official announcement soon.