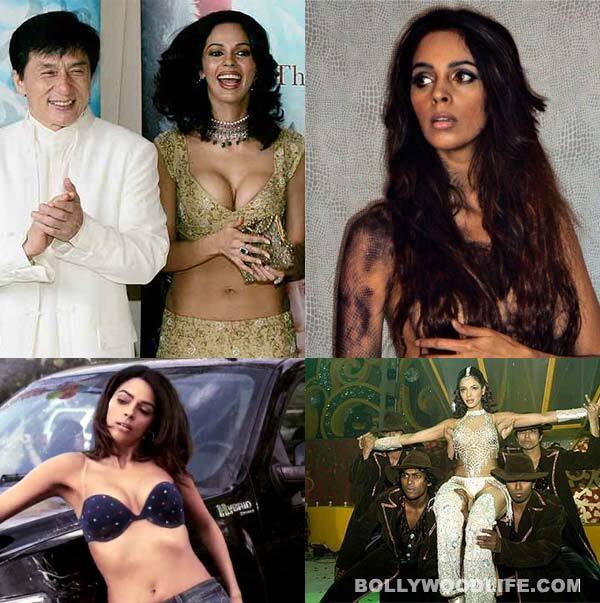 skip advertisement
The Murder actor has never failed to shock the masses with her appearances. And with the first look of her upcoming film, she is ready to court another controversy. So, we decided to take a trip to the past and take a look at this controversial babe's sensational appearances
Mallika Sherawat has stepped into yet another controversy with the first look of her upcoming film, Dirty Politics. The poster shows her sitting on top of an Ambassador car right outside the State legislative Assembly of Rajasthan, holding a CD in her hand, but draped only in the national flag. Honestly, we weren't surprised given that it was the Murder actor's only chance to regain her 'sensational' tag.
But as you will know, this ain't the first time when this sexy babe has raised eyebrows. She first made waves with her debut film Khwahish and ever since then Ms Sherawat has been controversy's favourite child. If there is anyone who knows how to be in the news and grab headlines, it's her. And we are sure you will agree with us. In the last decade or so Mallika might have reinvented herself – first as a sex symbol, then as a Hollywood wannabe (she still makes it to the red carpet at Cannes) and as a reality show queen. But controversies seem to be walking with her hand-in-hand. No, we're not talking about the  motor mouth babe who went on to criticise India on a global platform, or sent her sexy birthday wish to Narendra Modi and was caught partying with Hollywood star Antonio Banderas. Here's taking a look at some of the moments from Mallika's life that shocked, surprised and stunned us…
Ms Mallika turned a super-seductive car washer for her Hollywood film, Politics Of Love. In a revealing top (read:bra) and denim shorts, she indeed got the temperatures soaring and grabbed eyeballs.
While promoting The Myth at Cannes Film Festival alongside co-star Jackie Chan, Mallika made all the possible efforts to grab the eyeballs as she sported a gown that had such plunging neckline, that no cameras could ignore her. Her nude outfit and ample skim show indeed made the headlines that year.
Before the release of Hisss, a photo of topless Ms Sherawat got everybody talking. It caused quite a stir in the Indian media at that time. However, it was later confirmed that she had a body suit on.
Her bold appearances landed her in trouble sometimes. The Welcome actor wore a skin-suit for her 45-minute performance on a New Year's Eve, which angered a social worker, who approached the Mumbai police seeking an action against her for wearing obscene clothes. It was quite a scandal, we must say.