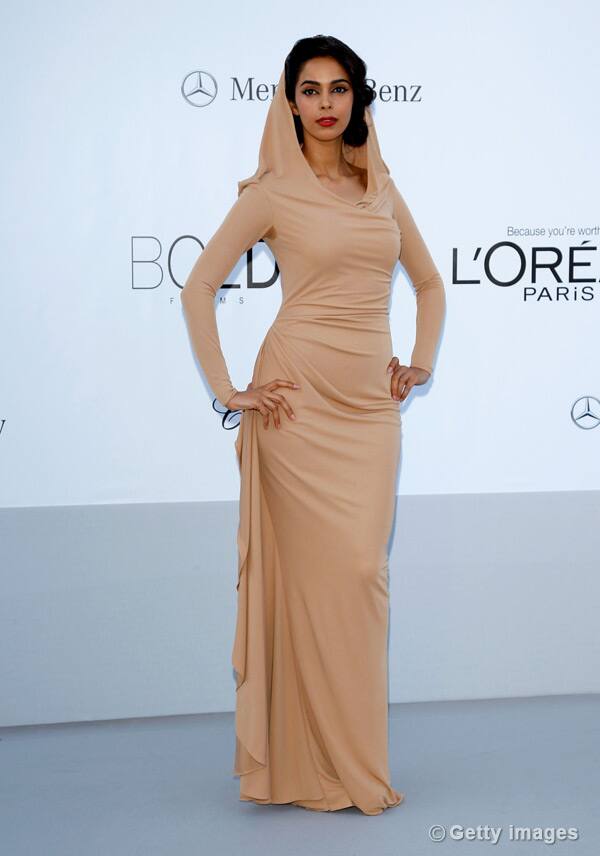 Seems like the babe is in love with French designer Ali Mahdavi's work, which is why we get to see her in the stylist's creation, once again!
Gone are the days when Mallika Sherawat obsessed over a bold and beautiful style. The babe is fixated on the idea of flaunting an unconventional look lately. Ms Sherawat's first appearance at Cannes, in a dress which was stitched by Ali on the spot for her was quite appreciated by fashion critics.
But looks like the babe is greedy for more compliments, and as she raises the ante when it comes to her fashion statements at this prestigious film festival, we are starting to expect more from the actor in terms of style. We loved Mallika's light brown body-hugging gown that she chose to wear on the red carpet yesterday. The hood attached to the dress and the drape effect on the bottom of the gown get an enthusiastic thumbs-up from us. The feline style eye make-up and the classic hairdo complement her bizarre gown. Although the prominent sweat patch disappoints us, Mallika makes up for that faux pas by carrying herself amazingly. The hood lends a very sinister feel to the elegant dress, and we can't help but wonder if this is the actor's way of bringing her alter ego to the fore! Do tell us, what do you think about her unusual dress?