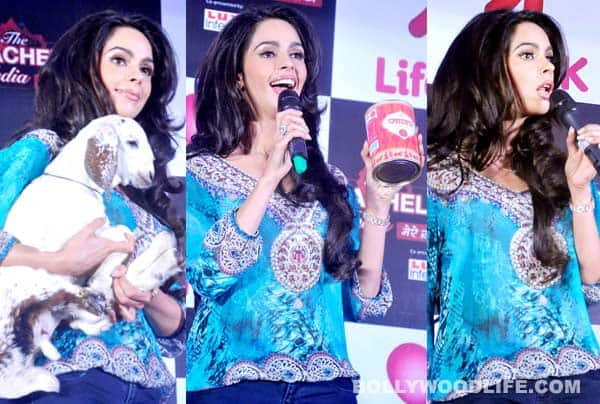 On the dating reality show that Mallika is hoping to find true love, all we seem to find is cheesy drama
Though Mallika Sherawat has suitors vying for her attention on The Bachelorette India Mere Khayalon Ki Mallika, what we can conclude is that the babe herself is vying to grab eyeballs with her TV debut. We dunno or at least aren't sure if the show is scripted or not, but when something unexpected happens, Mallika sure doesn't know how to deal with it. And well, some of the dialogues (from her heart or the scriptwriter's) are just so blah that it makes us wonder why this foreign-return babe is so desperate for attention? Here's some goss!
Recently Rahul Mahajan made a guest appearance on Mallika's reality show. After the shoot, out of the blue, the sexy siren asked Rahul, "Who is your father and what does he do?" We get it that she might've flown to Hollywood and all that, but not for so long that she's completely unaware of the political situation in Mumbai, right? Also, if at all she might've read and researched about the reality dating shows that have been telecasted before in India, she might've known Rahul too had done a swaymvar. We're sure you aren't as ignorant as this sexy babe but FYI, Rahul Mahajan is the son of the late BJP leader Pramod Mahajan, who died under tragic circumstances. Anyways, even after putting her foot in the mouth, and later finding out about Rahul's father and background, Mallika didn't have the courtesy to apologise. In fact, she chose to be indifferent!
Moving on, remember one of the suitors who had carved Mallika's name on his arm? No, it wasn't the guy's blade-carved hand that grabbed attention but Mallika's hysterical reaction, which was oh-so-fake! The babe even shed a few invisible tears, which just wouldn't fall out of her eyes till she finally got her hands on glycerin. Gosh, so much drama, we say! Everything about Mallika's so called reality show appears fake, doesn't it?
We aren't done yet. The drama queen dared her suitors to jump for her. It didn't need them to jump in a well but just some bungee jumping. Over this, Mallika said, "I dared them to jump for me. It's quite simple, if you can't do something as small as bungee jumping for me, how can I be sure you can provide for me?" Huh? How are the two things related unless she intends to marry someone from the circus industry, right?
We get it that you are a motormouth Mallika but at least think before making a statement. On a concluding note, we admire this babe, known for her brazen dialogues to appear on the national television and pass such senseless statements, but we must say she seems to have gone from bold to blonde on The Bachelorette India!