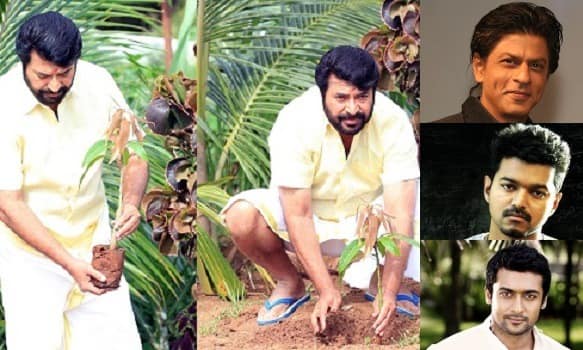 After ALS ice bucket challenge going viral, the Malayalam actor has put on his eco friendly cap as he spreads the message of green earth with a unique initiative
Its been a month since the world has been taken over by the super popular ALS ice bucket challenge, with every person on the planet, be it a celebrity or a layman, being smitten by it. While a lot of our Bollywood and Kollywood celebs took on the dare, there were a few sections of the society who condemned the ice bucket challenge as a wastage of precious water. But looks like a new eco friendly initiative has taken its birth from the God's own country, Kerala, in the form of My Tree Challenge.
What is My Tree Challenge:
The My Tree Challenge is an online eco revolution kick started by two environment lovers, Abdul Manaf, an entrepreneur, and Imthias Kadeer, a travel photographer. If one is challenged to take up this dare, he or she has to plant a sapling and has to nominate others to do the same.
Malayalam superstar Mammootty started the campaign by planting a tree sapling. The Rajadhiraja actor posted pictures of him planting the sapling and requested his friends and colleagues from Mollywood to do the same. That's not all, Mammukka challenged India's biggest cinema stars like Shah Rukh Khan, Vijay and Suriya to take up the challenge and contribute towards making a greener earth.
The actor posted on Facebook," As you all know ALS Ice bucket Challenge is being viral Online and Offline media. I proudly kick start a novel concept called My Tree challenge. I request all my friends from the Malayalam Film Industry and all Facebook friends to join in for the good cause and make this world a greener place to live in. I challenge Shah Rukh Khan from Bollywood, Vijay and Surya from Tamil Film Industry to plant a sapling and join this Eco revolution."
With big names like King Khan, Vijay and Suriya nominated to take up the challenge, it would be interesting to see if these stars pay heed to Mammootty's initiative and fight against global warming by planting trees. Whether these actors take up the challenge or not, the association of their names is giving the My Tree Challenge campaign a lot of attention!