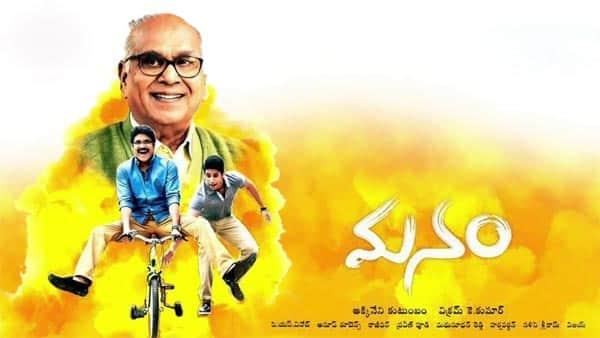 The late legend Akkineni Nageshwara Rao's last film is a dessert for die hard romantics
For years most of the Tollywood filmmakers have heavily relied on gimmicks of commercial cinema- the so called masala of hardcore action, romance, melodrama, item number and the most essential romantic song in the snow capped ranges of foreign lands. So once in a while when a film comes which doesn't tick on almost any of the boxes, as a viewer you are bound to feel excited. Manam is one of those films. It's a commercial film which manages to woo you even with its flaws. Akkineni Nageshwara Rao's last film is the story of multiple reincarnation. From the start to finish the film manages to capture your attention and puts a smile on your face.
Plot: The story written by director Vikram Kumar and dialogue writer Harshvardhan is a complex tale of car accidents and rebirths. Nagarjuna, Naga Chaitanya, Shriya Saran and Samantha all play dual roles – one from bygone era and one from present time. Now imagine this – Naga Chaitanya and Samantha are parents of Nagarjuna and Nagarjuna and Shriya Saran are parents of ANR! Sounds confusing…isn't it? But we got to give full marks to makers for presenting this complex tale of relationships in such simple terms.
Performances: Acting department is in fine hands ably led by Nagarjuna. The kind of rapport which Nagarjuna has with Naga Chaitanya is beyond words and their first meeting in the airplane is quite funny. Samantha and Shriya Saran have given commendable performance and have not shied away from playing the roles of doting mother. ANR shines in a small but important part and turns as a savior in the climax. The chemistry between the trio of Akkineni is infectious especially the drinking scene before the Piyo piyo re is outrageously funny. The songs and background score from Anup Rubbens deserves a special mention as the music plays a special part in narration.The I love you antiques between Nagarjuna and Shriya is sweet and funny at the same time. The Kanulanu thaake track has been beautifully shot depicting the ups and downs in lives of a married couple played refreshingly by Naga Chaitanya and Samantha. The cinematography by PS Vinod is a treat to watch. Cameo's by Amitabh Bachchan and Lavanya Tripathy are so small that if you blink your eyes for a moment and you will miss it. What's intriguing about the film is it is more about children reuniting with their parents in the next life and less about actual romance between couples.
Verdict: The first half is little slow and takes time to establish its premise. But the second half is where most of the story unfolds. Manam is really good but that doesn't mean it is sans flaws. The film time and again runs into the territory of being too sweet to digest at times and few of the story points seem to be forced. Manam also gives the vibes of Back To The Future but kudos to the makers for staying away from the aping the English classic. Manam might come off as too simple and too good tobe true for realists around the globe. When was the last time you saw a Telugu movie with ensemble cast, with everyone having equally important roles? Manam is one such film. Last but not the least a standing ovation to the director Vikram Kumar to have put forth such a sweet and simple film. If you have a craving for sweet tooth, go and indulge in this clean family fantasy film Manam. To put forth in simple words, one would say Manam is as sweet as honey!
Rating:
out of 5
Reviewed by Subramanian Harikumar
* Poor
** Average
*** Good
**** Very good
***** Excellent