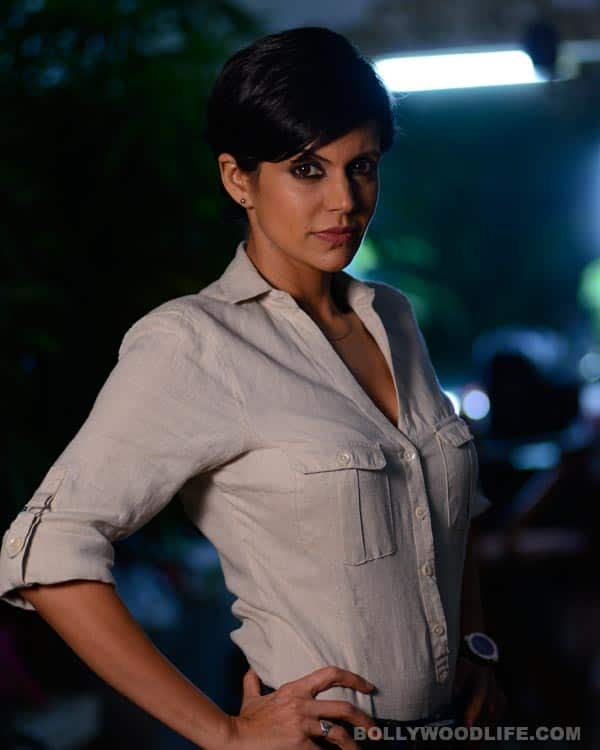 We first saw her in the popular Doordarshan soap Shanti with unmanageable hair, a straight face and prim salwar suits. A lot has changed over the years – the hair is pixie-short, her face mirrors her thoughts and the suits are replaced with short… really short… dresses
Mandira Bedi has grown over the years and so has her enthusiasm to do daily soaps. The drama queen who swore to never do TV serials after Shanti until something really excited her is in seventh heaven – she is now part of 24, the Indian version of the American series. Munching on popcorn as she was being interviewed, Mandy explained how tired she was of standing on her seven-inch heels. But the moment the camera was on, she was back to being her enthusiastic and chirpy self. The actor spoke about the action series 24, her director and co-stars.
The action in 24
I am still in a pretty fit shape. Whatever action there was to do wasn't exactly tedious. I was not jumping off a cliff or anything like that. The action I did could be easily handled. I thoroughly enjoyed myself. I got to wear a holster and carry a real gun and now that I have done that, I can die and go to heaven! What I mean to say is that the action hasn't been too hardcore for me… yet. I haven't shot or killed anybody yet. I haven't even punched anyone yet on the show, even if I've had the inclination and desire to. (Laughs) So I haven't been through any rigorous training. But you have to look like a gun is a very much part of your life. So I was given the gun a little prior to the shoot, to get used to it. So I opened and closed the gun and checked for bullets. For that one shot I must have practiced 50 times. There's a lot of attention to detail that's gone into this project. As for the hardcore action like what Anil Kapoor does, I will cross the bridge when I get there. Right now I am just getting by.
Reason for accepting 24
This is a different genre altogether. I really thought when I returned to fiction it would be a show about me, named after me. It will be my big return to television. But when I got offered 24, I said to hell with it, this is what I want to do. However big or small, this is what I want to do. I want to be a part of 24. My role is a great one and I simply love it. It really couldn't get better than this. It's good to be a part of such a show that's completely revolutionary and path breaking. There's nothing like this on television now. Of course, you do have the regular crime thrillers, but nothing of this magnitude. 24 has a much larger scale, look and feel. It is a larger than life kinda show. This is a notch above shows like CID or Crime Patrol. I am not demeaning anyone, but in terms of importance in the whole scheme of things – it's after all about an anti terrorist unit, right!
Hiccups on the show
Of course there are a lot of hiccups, like is the case with any other crew, but you deal with it and move on. At the end of the day, when the end result comes, you see that and forget about everything else.
I didn't particularly face any major problems. It just took a little longer to adjust to the energy and pace of the show, 'coz usual daily soaps are much slower, the reactions and expressions are not fast paced. But in 24 everything is sharp, racy and with quick cuts. The energy and pace took me a while to get used to. Other than that, everything was perfectly fine.
Director and co-actors
Abhinay Deo is a taskmaster and that's the best thing about him, I believe. He brings out the best in you and I simply love working with him. He brings out the little nuances and the smallest expressions in your acting – that's unbelievable! He will sometimes suggest you nod a little, or sigh or raise your eyebrows, which automatically makes the scene look better. When he gives these suggestions, I am thinking, 'Damn, why didn't I think of that!'. He is a taskmaster in the best possible way and I believe that's how he gets the best out of us. I don't have that many scenes with Rahul Khanna, or Anita Raaj or other actors. Most of my scenes are with Anil sir. In fact, I have a few scenes with Shabana Azmi ma'am too. In fact, most of her scenes are with me. She plays a senior level RAW agent who takes over the ATU for a while and we just don't get along. We have a past that wasn't exactly very cordial; there are a lot of undercurrents in the relationship. I thoroughly enjoyed working with her; she is one person who wants you to give your best. In the industry you will have many insecure actors who don't wish to help or encourage you to give your best. But Shabana ma'am is something else!
Scenes and compliments
I can't really tell you about my best scenes, 'coz then I will be revealing the storyline. Some of the good scenes involved a tussle with Anil Kapoor – which was fabulous. Then I have a few good scenes with his wife – Tisca Chopra – which came out very well. In fact, I think Renzil D'Silva was shooting that episode; he came and clapped his hands for me and said 'That was outstanding'. And I didn't even have much to say in that scene either. I have got compliments at several times, which made me very happy. Anil Kapoor has been so kind to me. He says 'The camera loves your face and you have no idea what this show will do for you'. Last time we were shooting he said, 'You are the character, I can't say you are playing the character!'. I felt really good hearing that. Normally, when you are hosting reality shows and you go blah…blah…blah… the director doesn't come to you and say you are doing a good job, but when Abhinay or Renzil come out of their control room and say 'Man, that was damn good!' I am in seventh heaven. I have got a few of those and I am glad people are appreciating my acting.
Mandira the actor
I believe I have improved a lot as an actor. My first soap Shanti was like acting school for me. I came in as a completely raw person and the show honed me. But 24 is also acting school for me. Working with Anil sir and Shabana ma'am is acting lessons. As an actor your learning job is never done. You've never achieved anything completely; every stage of your life you are learning from co-actors, directors, technicians as far as lighting is concerned and more. I have changed a lot; I have become more of a director's actor now.