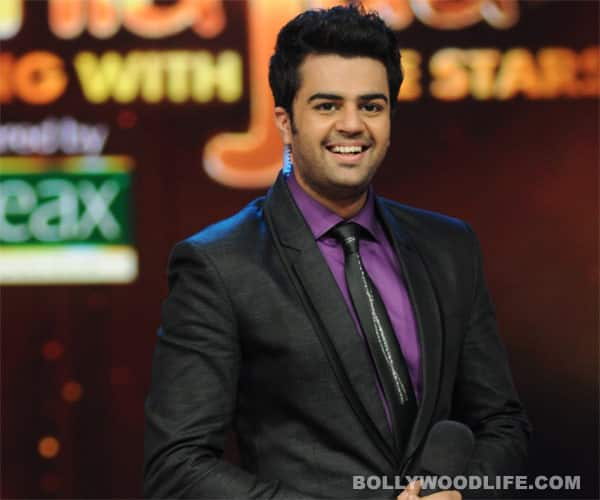 He has made you laugh a zillion times on the small screen and now he is all set to tickle your funny bone on the big screen as Mickey Virus
Radio Jockey, video jockey, anchor and now actor – Manish Paul has done it all. And he's hungry for more. The Jhalak Dikhhla Jaa co-host will soon make his filmi debut with Saurabh Sharma's comic caper Mickey Virus.
We recently caught up with Manish and the first thing that caught our attention was his lean, well-toned body. He came to the interview straight from his workout, which is obviously a habit for him. And you'll know that from this interview. Also, when it comes to being funny, wethinks MP is blessed with the art! Good-looking, witty, chivalrous…there is little missing in this young man. Find out what Manish has to say about his co-star Elli Avram being in Bigg Boss 7, his film being compared to Ayushmann Khurrana's Vicky Donor and what the future has in store…
Do you think Mickey Virus is the perfect launchpad for you?
This is my first film, so frankly, koi jyada thought nahi tha. I was waiting for a good film and Saurabh met me and he gave me the script of Mickey Virus. I had actually met him for something else, coz he had already cast someone else in Mickey's role. But then he said that somehow after meeting me, whenever he thought about his script and spoke about Mickey's character, he only thought about me. So he asked me to listen to the script, so I went for a narration. The script was very good. So far people associated me with just comedy. This film has comedy, action, romance… and you'll see me in serious mode as well. So variety wise there was a lot for me to do in Mickey Virus. So that's why I agreed to do the film.
Promotions of your film are on. Are you missing your co-star Elli Avram?
Absolutely! I am missing Elli. I think uske saath bahut achi timing hai meri and she is a very dear friend. We have spent some really fun times with each other while shooting the film. I remember we used to sit and discuss how Mickey and Kamaini will promote the film. So I am obviously missing her, but I am happy for her, 'coz she is in Bigg Boss right now. She is doing really well. People are loving her and they have started talking about her on social networking sights too, which wasn't happening earlier as people didn't know her. So it's really good for her and for us as a team, as well. So we are happy.
Do you follow Bigg Boss?
I follow it only for Elli (laughs). No, in fact I don't really get time to watch Bigg Boss, but I try to catch the show if I am at home – that happens rarely. But I try. In fact, I saw the first episode for her and then I came to know that she cried on the show, so I made sure to catch that episode too.
If given an opportunity, would you choose to be locked up in Bigg Boss house?
Frankly, I don't know. I was offered Bigg Boss, but I don't think so I would have done it 'coz right now my focus is only my film. So because of that, mera focus kahin aur nahi lag raha. I can't think of anything else, so not right now.
Does this mean you will give up television?
No…not at all! I will never give up television and I don't want to give up television. Television is something that has given me so much. People know Manish Paul because of television and not because of films. I am getting opportunities in films, so I want to utilise them. I want to grow as an actor with every film. I have never thought, if I am doing films, then I would give up television. Choices banane wala main nahi hoon, choices banane wale films and TV hain, jo apne aap decide karenge ki kisko Manish Paul ki zarurat hai. And wo apne aap mujhe attract karega!
Your comic timing is bang on and you poke fun at people without hurting their sentiments. How do you manage to do that every time?
You know, these are the moments when I realise that God exists. A lot of people tell me that you do a fab job and you're number one right now. Any big actor who comes on stage – they ask who is hosting and when they know it's me, they are very happy. These are the moments when I feel God is there, because I never plan what I am going to say. I don't know what I am going to do on the stage. I am the dumbest person backstage. If somebody looks at me at that time they will think, 'He can't do anything'. That's how blank I am at that time. I am standing quietly in a corner and suddenly something happens and that happens how – I still don't have the answer. Once somebody told me, 'Tumhara pipe uparwale se juda hai'. So I feel that. Coz jab mein kuch karke aata hoon, people appreciate that and I hear the applause. But when I come back, I am like, 'Oh shit, what did I do?'. So sometimes I watch the repeat telecasts of my show to see what I did.
That means you believe in improvising…
Absolutely.
So did that happen on the sets of Mickey Virus as well?
I am an director's actor. I don't like to intervene in the director's vision. Number one, its my first film, so abhi toh meri aukat hi nahi hai, bolne ki. In fact, who aaukat hogi bhi, toh bhi main bolna nahi chahunga. Hum director ke haath ki katputliyan hain. And Saurabh has been very kind and he knows that mere one-liners bade spontaneous aur funny hote hain. So he gave me the liberty that if I can add something somewhere, then I should. I would sit with Saurabh and tell him that you know, I can add something here – so jab tak he wouldn't give me the nod, I wouldn't add something spontaneously on my own. It's all a director's game.
RJ, VJ, anchor and now films – which has been most challenging?
I think films have been very challenging. Because as an RJ it didn't matter how I looked physically. Television mein bhi log itni parvah nahi karte the, but in films they do. I myself was conscious, because when I joined Mickey Virus, I was 84 kgs. When I started shooting, I was 70kgs. I lost 14 kgs for my film. I had to make sure to lose weight, coz I had to run a lot in the movie – there was action and there was a lovemaking scene where I had to take off my t-shirt. So all these things I had to keep in mind. Agar acting karni hai, to uske liye director hain, but physically jo karna hai, wo mujhe hi karna hai. So I worked a lot on my body. Main ek host ke nazariye se dekhta tha, usko change karke mujhe ek actor ke nazariye se dekhna tha… I think ache workshops the, jisse mujhe kafi help mili.
Your film is being compared to Ayushmann Khurrana's Vicky Donor. Have you watched the film?
I have absolutely seen Vicky Donor, yaar! I had to… it's my friend's film. So there was no scope for me to miss it.
Is there any similarity between the two films?
The only similarity is that with both the films TV hosts are debuting. Ek mein Vicky hai, aur dusra mein Mickey. The similarity ends there. But until people watch the film, they won't know. But when people do watch the film, they will realise that both are completely different. But yes, comparisons are being made; I and Ayushmann, we both laugh at it. Main usko phone karke bolta hoon, 'Saale, tere film pehle aa gayi, toh ab meri aisi taisi ho rahi hai'. People also tell me there is competition now, but I don't believe in it. I just believe in doing good work, aur main aise hi rehna chahta hoon.
Was it fun hosting Jhalak Dikhhla Jaa 6 with stand-up comedian Kapil Sharma?
It was one of the best seasons that I have hosted till now. After a long time I had a co-host who was equally witty and funny as me. In fact, people were watching Jhalak a lot because of us – mujhe baad mein pata chala. When Kapil and I talks, ek comic punch wo marta that, fir main, fir wo, fir main. So hamari timing bahut achi thi. We enjoyed a lot…
Are you still in touch with him?
Yes, I spoke to him when a fire broke out on the sets of his show. I told him, if there was any problem or he needed help, we all were there for him.
What comes to mind when I say the following names…
Madhuri Dixit – I love her
Karan Johar – my very very dear friend
Remo D'Souza – superb and perfect judge
Lauren – hot
Drashti – sexy
Kapil Sharma – very funny
Which other films are you working on?
There is the Tere Bin Laden sequel and I am in talks with a good director and a production house. But I would not like to give out details till everything is final. Yes, I feel fortunate that before the release of my first film Abhishek Sharma, the director of  Tere Bin Laden, showed an interest and confidence in me. After the sequel, he is directing one more film and he called me for that as well. Usme chota sa role hai. The moment he met me he said, 'You go back' and I said, 'Okay, sir'. He said, 'Wapis jao and Sunday ko aana. Tum meri film mein lead karoge'. I was very happy!. He told me, 'After meeting you I feel you can carry the burden of a film on your own. So you'll be the lead'. Hearing that I actually got goosebumps! I auditioned for three hours, which was fun. Also, I found out that he was from Delhi; so am I. He was from my college and when I came to Bombay, I kept my ticket with me and he has done that too! By the end of the film we realised that we are so similar to each other. So it was great fun.
Are you open to a hardcore action or romantic film?
Yes, I am. As an actor, I don't have preferences that I want to do films of a particular genre. I have just started working in films, so whatever opportunity comes my way, I will take it. Lots of people ask me what kind of role I want to do. But that's not my call. I think directors and producers will see my work and then they will decide what I can do, or what more they can make me do. So I will leave that to my directors and producers.
One comedy director that you would love to work with…
I think there are lots of directors. I recently worked with Abhishek Sharma and would love to do one more film with him. I can't name any directors, coz I have worked with only two. But Abhishek has made an out-an-out comedy and unki jo comedy ki jo pakad hai, it's excellent. I just finished working in his film and later I hugged him and said, 'Next film ki date kab hai?'. He started laughing and said, 'I want to work with you too'. So I would definitely love to work with him.
One actress that you would love to romance onscreen….
Katrina Kaif. But that's her call, whether she wants to work with me or not (laughs)!