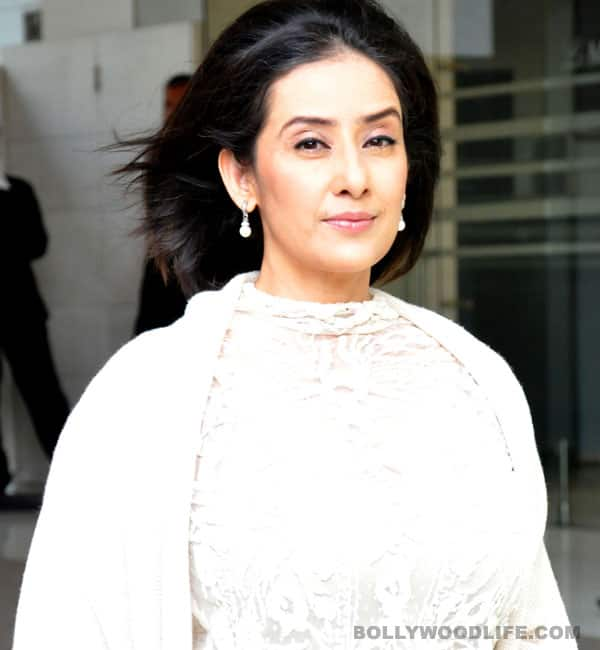 Not too long ago, Manisha Koirala was in bad shape, literally, and it was showing – in her appearance and in her work. Her last few attempts – should we name names here? – did nothing to resurrect her film career. But now the I Am actor is set to turn a new leaf with Ram Gopal Varma's Bhoot Returns
The pahadi girl from Nepal doesn't really mind the fact that success eluded her. Rather, today Manisha Koirala values happiness and personal satisfaction more than popular success as a star. And so she's a content woman, all excited to promote her first horror film. After all, she has faced the camera after two long years, looking fitter and better than before! In a free-wheeling chat at Mehboob studios, the Saudagar girl floored us as she spoke from the heart about Bhoot Returns, her comeback ( 'new innings'?), her mindful decision to do fewer films as an actor and turn to production, her political aspirations and much more….
Was Ram Gopal Varma the driving factor for you to do Bhoot Returns, or was it the script?
Ramu, because I have worked with him in Company, and we have been friends after that. Irrespective of what people say about him and his films, I like the movies he makes. He'll always remain one of the finest directors I have worked with. That's how Bhoot Returns happened.
Did you consciously decide to move away from films?
Yeah, in a way, because I did couple of odd films and towards the end of that, I realised that I was not enjoying the routine; maybe some people can do that all their lives, working day and night, non-stop, 24×7. It's perfectly fine with them. But I started getting little numb and bored. I wondered, 'Is this what my life is all about?' Gradually, I wasn't enjoying the routine of waking up in the morning and doing the same makeup and running from one studio to another. So I took a break, went to New York and studied a filmmaking course. After that, I went to Paris and spent some time there. Later, I went to Nepal, but all this while I did one or two odd films. But I stayed purposely away from people and the media, because I started withdrawing myself. So it was a conscious decision.
You worked with some of the finest directors of Bollywood and had film offers from them not that long ago. How difficult was it to say no?
See, whatever we desire automatically happens. It's as easy for me to return and work in a film as it is for me to leave. I realised that I made some wrong choices and did some bad films… so what? It happens with every actor. It depends on how you take it. Waise bhi, I was getting bored and I did some bad films. So it wasn't that a good offer fell into my lap and I didn't take it on. Slowly, my energy was attracting bad films.
But offers must be still pouring in…
They do, but when the news starts circulating that Manisha's doing a particular film, all sorts of people come in. And once they realise that she's not the same person and has become slightly khadoos, that's when they get shy to approach me. But I'm thankful to God, because I think it filters out a lot of rubbish.
What do you think of Bollywood films today?
I loved Vicky Donor. Among the young breed of actors, I like Parineeti Chopra. She has the fire in her and is very spontaneous. There are several promising actors and actress and also directors.
Any concrete plans of producing or directing a film?
The talks are going on. I will announce it properly once it materialises. Right now, I'm just on talking terms. Since I have so many interests, I talk about everything – for instance, right now I'm too obsessed with painting. And I get really engrossed with that. So it could be anything at this point of time. By December, I should be sure of what my next project is. So then I'll announce it.
As you said, you consciously decided to stay away from films for some time; was there always a craving to do good work?
I've always believed that human beings can get whatever they want. You drive your destiny; your destiny doesn't drive you. So at any point of time, if I have to back off, I can back off. If I want to come in, I can come in. And so can anybody else.
Talking about Bhoot Returns – what was your experience, working in a horror film? Do you get easily scared?
Trust me, I get easily scared. I get scared in the shittiest of all films. Like last night, before watching Bhoot Returns, I tweeted, 'Will I get scared of my own film?' And I indeed got scared (laughs).
Of late, we have seen Madhuri Dixit, Karishma Kapoor and Sridevi coming back to films after a long sabbatical. Do you think it's by chance or do you see it as a trend?
I think if an actor wants to return with the intention to do films and go back to his or her normal everyday life, it's up to them. It could be a trend or just that God has blessed them with a second chance. Karishma did Dangerous Ishq and I believe she's busy with her family. So likewise Srideviji. I guess Madhuri is doing Gulab Gang. It would be wonderful to see what they do.
Did you ever analyse your career, thinking that it wasn't going in the right direction?
See, I don't get pressurised. It's just that I feel bad to disappoint people. So it's a request to everybody not to expect me to do more films. What I had to do, I did. I will act in movies, but in something that would challenge me as an actor and only if I feel I would be happy doing a particular film.
After your last release, Ek Second Jo Zindagi Badal De with Jackie Shroff, you planned to settle down. But then you had gone through some personal crises which must have upset you. Is that the reason you started doing films again, just to shift your attention from the unpleasant episode?
It's a personal question, but I would like to answer that. I feel what you said could be one of the reasons, but the main reason is that I like cinema. I realised while I was away that I missed acting and working with good directors a lot. It's more of the passion for cinema than the troubles in my life.
It was reported recently that you're entering politics…
I can't avoid politics, it's in my blood. I'm surrounded by politics. We discuss it all the time at home whenever I visit Nepal. I cannot say that possibilities are not there. It may happen or may not happen.
How would you describe the present political scenario of your homeland Nepal?
It's not just about Nepal. It's not good time for any country. If you see it, the economy is evolving. There's a change. The media has become very strong. It has brought about a good change. As far as Nepal is concerned, it's either going towards progression, or it is deteriorating. Nothing is static any time. In a year or two, we'll know what will happen to Nepal. Right now, there's 18 hours of power cuts and no gas. So now we could only see a rise or fall. Nepal is a very poor country and it is trying to imbibe the concept of a free press as we have in India. It will take time.
Besides painting, what would you like to do in your free time?
I started painting in Nepal. I haven't started doing it here. It's just that I have to get into a proper frame of mind to paint here.