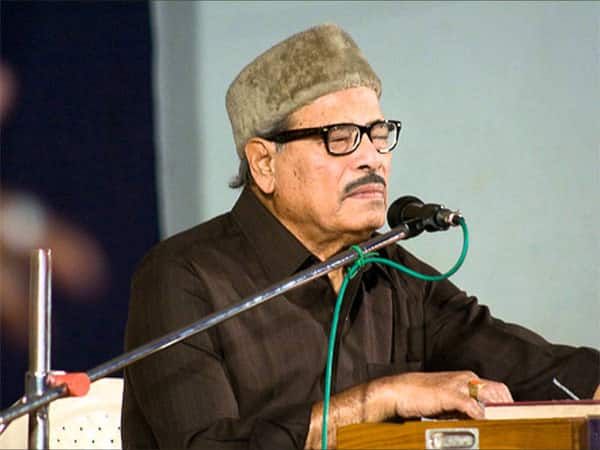 Perhaps the late singer's best known song, Aye meri Zohra jabeen had masti and magic in every word…
The world of music lost one of its brightest stars yesterday but his songs will live on forever. And one of Manna Dey's most loved numbers was Aye meri Zohra jabeen, from the film Waqt, starring Sunil Dutt, Nutan and Raj Kumar. The singer talks about the virtues of his beloved in the most beautiful poetry. But there is a secret to this one – Zohra actually means Venus, the planet of the goddess of love and beauty, or the morning star, while jabeen means forehead in Urdu. Put together, it is the description of someone with a wide forehead, who is as brilliant and beautiful as Venus. The charm of the lyrics isn't as convincing in English, but Manna Dey's voice with its little spice of mischief could make it work in any language, wethinks.
Aye meri Zohra jabeen, tujhe maloom nahin
O my beautiful beloved, you don't know this
Tu abhi tak hai haseen aur main jawaan…
That you're still lovely and I am still young
Tujhpe qurbaan meri jaan… meri jaan…
For you sacrifice I will my life
Ye shokhiyaan ye baankpan…
This sauciness, this jauntiness
Jo tujh mein hai aur kahin nahin
Which is there in you, and nowhere else
Dilon ko jeetne ka fan
Hearts to win the charisma
Jo tujh mein hai kahin nahin
Which is there in you, is nowhere else
Main teri… main teri aankhon mein paa gaya do jahaan
I in your eyes found both worlds
Tu meethe bol jaan-e-mann, jo muskuraake bol de
You sweet say beloved, that smiling you say
To dhadkanon mein aaj bhi sharaabi rang ghol de
Then heartbeats in even today intoxicating colour mix
Oh sanam oh sanam main tera aashiq-e-jaavidaan
Oh darling oh darling, I'm your lover eternal.