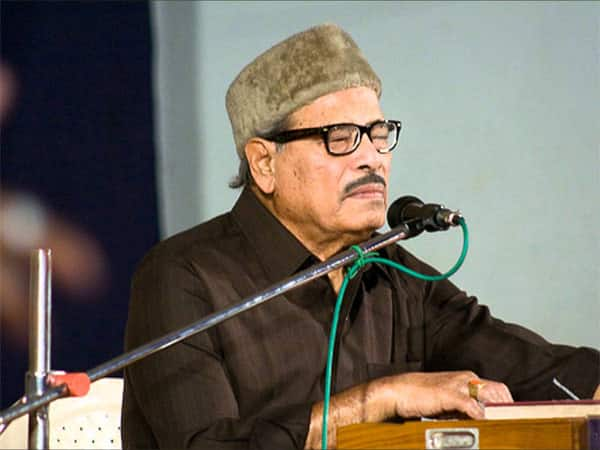 Manna Dey passed away this morning due to cardiac arrest. But the mesmerising voice that enticed millions of music buffs will always remain fresh for generations to come
Padma Bhushan Manna Dey was a legendary figure in the world of Indian music. His fame was not just restricted to the Indian domain but to every part of the globe, where an Indian heart resides. People adored and idolised him not only for his musical bearing but because he epitomised a wonderful combination of melody and poetry. His stance in Indian music justifies the axiom – the art outlives the artist.
Born on May 1, 1919, Manna Dey was christened by his parents as Prabodh Chandra Dey. Theirs was an orthodox joint family of North Calcutta. Prior to Manna Dey another brilliant artiste of similar stature Krishna Chandra Dey too was born in this very house. Purna Chandra Dey was Manna Dey's father and Mahamaya Dey was his mother. From very childhood Manna da manifested a keen liking for sports like wrestling and boxing and excelled in both. Apart from sports, the singer was also renowned for playing pranks upon people.
It was during his intermediate classes at Scottish Church College, Dey's singing talent became apparent. He started taking singing lessons from his uncle Krishna Chandra Dey and from Ustad Dabir Khan. And it was at this period of time Manna Dey stood first for three consecutive years in three different categories of inter-collegiate singing competitions.
In 1942, Dey accompanied his uncle Krishna on a visit to Mumbai. And there under the guidance of his uncle, then Sachin Dev Burman, Manna da started working as a successful assistant music director. But the composer never stopped taking musical lessons in Hindustani Classical music from two classical stalwarts, Ustad Aman Ali Khan and Ustad Abdul Rahman Khan.
The legendary singer started his career in playback singing with Tamanna in 1943. The musical score was set by his uncle Krishna and he had to sing a duet with Suraiya. The song was an instant hit. People across the country loved the song. In 1950, Mashal was the second film where Manna Dey got the opportunity to sing a solo Upar gagan vishal and this time the melody was created by Sachin Dev Burman.
Manna da, as he was fondly called, was a flawless singer who could sing any genre of song. From qawaalis (Yeh ishq ishq hai) to romantic duets (Pyaar hua ikraar hua), fast numbers (Aao twist karein) to patriotic songs (Ae mere pyare watan), prayer numbers (Tu pyaar ka saagar hai) to classical gems (Laaga chunari mein daag, Tere naina talaash kare, Poocho na kaise, Aayo kahaan se ghanshyam and Jhanak jhanak tori baaje paayaliya and Phool gendwa na maaro) among other gems.
Being the versatile genius he was, he won the Filmfare Award for Ae bhai zara dekhke chalo from Mera Naam Joker. The singer had sung several notable numbers for Raj Kapoor that made him the showman's voice. Though he was unarguably the most talented amongst his contemporaries, yet the career graph of this great singer never reached dizzy heights considering tough competition from Mohammed Rafi and Kishore Kumar.
It was on December 18, 1953, the composer-singer got married to Sulochana Kumaran and the couple was blessed with two children – Suroma and Sumita. He pioneered a new genre in Indian music where he infused Indian classical music within a pop frame work. His experimentation with western music too produced many unforgettable melodies like .
The versatile singer had recorded more than 3,500 songs. His music has enthralled the audience throughout the world. And justifiably he has been showered with innumerable National Award and titles. After being hospitalised for brain haemorrhage for nearly four months, our dearest Manna da died on…
With Manna Dey's passing away, Bollywood's music world has certainly lost one of his most precious gems. Zindagi kaisi hai paheli… haaye… kabhi to hasaaye kabhi yeh rulaaye! BollywoodLife bids the legendary singer farewell. May his soul rest in peace. Our heartfelt condolences to his family.