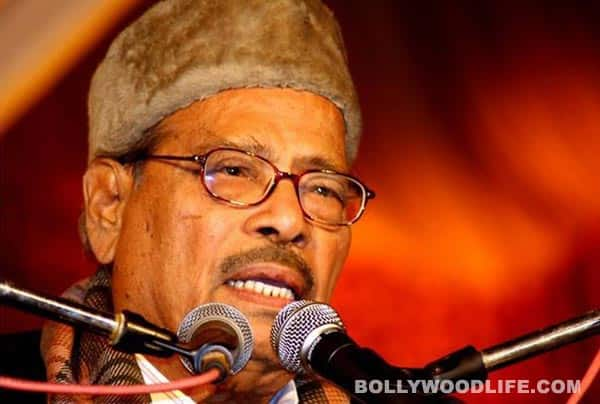 Bollywood and politicians offers condolences to the family of the legendary singer
One of the last living legends of Hindi cinema's golden era, Manna Dey, passed away in Bangalore today (October 24). He was 94. Born Prabodh Chandra De on May 1, 1919, the singer-composer suffered from a lung infection and had been in and out of hospital for the past few months. His daughter Sumita and he were also fighting a legal battle with his nephew for missing valuables.
As 'Manna Da' finally left for heavenly abode in the wee hours, Bollywood was quick to offer condolences through social networking site Twitter. Amitabh Bachchan, Rajeev Khandelwal, Manoj Bajpayee, Madhur Bhandarkar, Shabana Azmi, Vishal-Shekhar, Ritesih Deshmukh, Aditya Narayan, Rahul Vaidya and also politicians like Narendra Modi and Sushma Swaraj tweeted. Here are some of the tweets:
Amitabh Bachchan:
"Manna Dey RIP .. !! Prayers and condolences to loved ones and family ! Strange how we connect events of our life with his songs !"
"At work but shall keep a minutes silence, in Manna Dey's memory on set before we start .. !!"
"लोग चले जाते हैं … समय गुज़र जाता है … ध्वनि जीवित रहती है .. अमर हो जाती है !!"
T 1200 – लोग चले जाते हैं … समय गुज़र जाता है … ध्वनि जीवित रहती है .. अमर हो जाती है !!

— Amitabh Bachchan (@SrBachchan) October 24, 2013
Madhur Bhandarkar:
"Mannada, a Legendary singer with a golden voice, that ruled our hearts for decades, will be missed by all. Zindagi kaisi hai paheli haye."
Shabana Azmi:
"Manna Dey had a unique voice. He will live on through his songs Ai Meri Zohra Jabeen/ dil ka haal suney dilwala/ poocho na kaise maine RIP"
Mahesh Bhatt:
"Manna Dey passes away. His voice shall linger forever.R.I.P."
Narendra Modi:
"In Manna Dey, we have lost a legendary singer. His immortal voice will remain with us forever. May his soul rest in peace."
Shekhar Ravjiani:
"The legend is no more…But he'll forever live in our hearts through his songs and his voice. RIP Sir Manna Dey"
Rajeev Khandelwal:
"Just heard about Manna Dey! Another legend leaves his legacy behind. Will be remembered for generations to come."
Manoj Bajpayee:
"Manna Dey is no more! A great singer! Let's pray for him! My condolences to his family! His music will live for 1000 yrs. RIP"
Ashoke Pandit:
"Sad to hear abt the demise of Manna Dey.A grt singer& a grt human being.RIP."
Harsha Bhogle:
"oh no. such terrible news to get up to. manna dey no more? less melody in the world. #mannadey"
Sushma Swaraj:
"My respectful homage to the memory of the great singer Manna Dey".
Sunidhi Chauhan:
"Heartbroken at Manna Da's shocking demise."
Vishal Dadlani:
"The world is a darker place, as one of the greatest musical lights to ever shine, has left us. May the immortal Manna De-saab rest in peace."
Kunal Kohli:
"Manna Dey, last of the greats, along with Kishore, Rafi and Mukesh, passes away.RIP.'ek chattur naar' to 'ae mere pyaare watan' what a range."
Riteish Deshmukh:
"RIP Manna Da ! Your melodies would stay with us for ever."
Aditya Narayan:
"The fantastic four, gone. Kishoreda, Rafisaab, Mukeshji & Manna Dey sir. Heaven must sound beautiful. Prayers for sir's family & loved ones."
Rahul Vaidya:
"…so sad to hear about manna da .. aye meri zohra jabi .. Ur music will always b alive sir .. keep smiling up ther !!!"
BollywoodLife offers condolences to the family of Manna Dey.