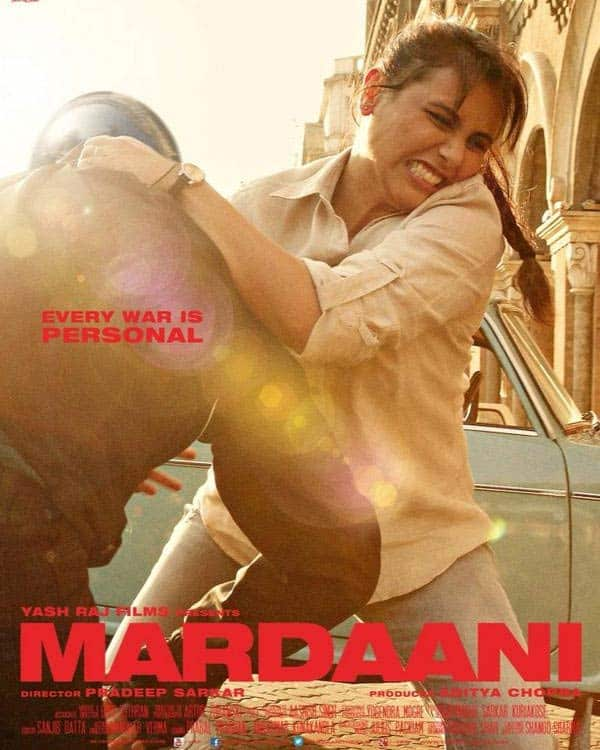 Rani Mukerji is back with a bang and she cannot be messed with…
What's it about:
Rani Mukerji plays the role of a tough cop named Shivani Shivaji Roy. She is in every sense of the term the man of the hour. Working for the crime branch Shivani has the law on her fingertips and some tough moves up her sleeve. She lives with her husband Dr. Bikram (played earnestly by Jisshu Sengupta) and her late sister's daughter. Even though a tough cop, she balances her personal and professional life well and proves to be a nurturing mother-like figure in her niece's life. We are soon introduced to Pyaari (Priyanka Sharma), a young street urchin who is put in a shelter home by Shivani. Pyaari finds love and care in Shivani's protection but all goes for a toss when she is abducted by an organised racket of child trafficking. Pyaari is stripped of her modesty and innocence among many other girls like her and at this point we are introduced to the main villain of the film, Walt (played by Tahir Bhasin) who is the kingpin running this racket. Sivani soon finds out about Pyaari's abduction and is out to get her back but in her way lie treacherous traps. Will she overcome all obstacles and get to save Pyaari? Or will she be thwarted by Walt? Watch Mardaani to find out!
What's hot:
Rani Mukerji delivers one of the most powerful performances of her career in Mardaani. The fiery spark her fans saw in the actor in her earlier films like Mehendi, Raja Ki Aayegi Baraat and Ghulam materialises fully as a raging fire in Mardaani. You wouldn't expect the newly-wed actor to roar like a lion but boy does she roar loud! Tahir Bhasin as the 25 year-old Walt playing the Breaking Bad enthusiast gives a chilling portrayal of an pimp and kingpin running an organised sex racket. Though he engages with his brutally ruthless yet unaffected performance, in certain moments Tahir falls in and out of his character. Nevertheless for a youth to play a sex racket kingpin was not only unsettling but intriguing as well. Being entirely dedicated to the Mardaani Rani, Pradeep Sarkar's film doesn't have a stellar supporting cast, but the actors fill in the shoes of their respective roles effectively. Despite being a film addressing a sensitive issue like child trafficking, the narrative never gets too preachy. The plot is kept as close to reality as a frame of fictional film allows. Mardaani tells a story we flip through in newspapers everyday but choose to ignore. It is Rani's compelling performance that proves to be one that is hard to ignore.
What's not:
Though up until the climax, Mardaani avoids Bollywood's typical ostentation to keep true to its subject but it gives in to melodrama a bit after that perhaps to keep the audiences hooked for a predictable end. Another concern we had with the Pradeep Sarkar film was that it didn't delve too deep into the issue of trafficking from the victim's perspective, but that was probably a conscious call made by the writer. We would have liked a little more background on Walt and why he became a pimp. The fistfight towards the end was a tad bit unrealistic but we don't complain because the masala moviegoer in us was satisfied by it!
Final verdict:
Mardaani is a narrative that leaves you rattled and perturbed, yet it gives you hope of a better tomorrow. If you like watching good content and good performances on screen, go for this one!
Rating:
out of 5
Reviewed by Srishti Dixit
* Poor
** Average
*** Good
**** Very good
***** Excellent