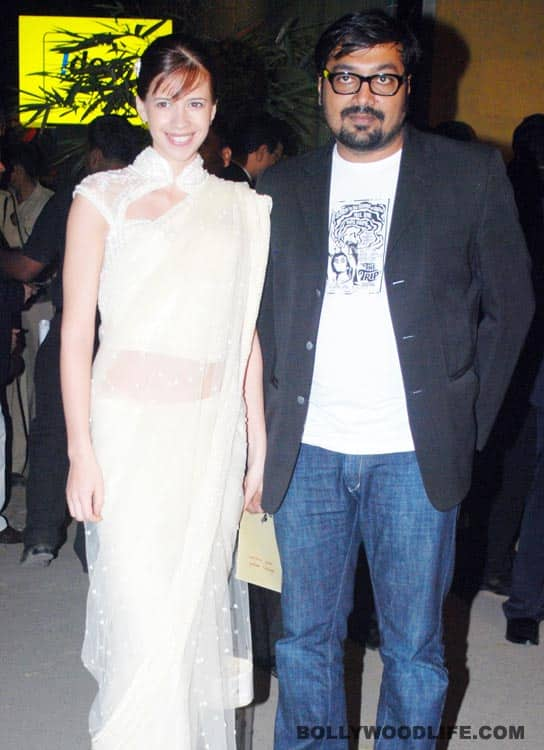 In April this year Anurag Kashyap got married to his girlfriend of three years, Kalki Koechlin. In a freewheeling chat the Shaitan actor reveals that life is not exactly about happily-ever-after and tells us some secrets about her new husband
During the making of Dev.D love blossomed between the once-married father of one, Anurag Kashyap, and his new actor Kalki Koechlin. After living together for three years the couple recently got married. Unlike other newlyweds who immediately take-off to a private island or a cold mountain top, this unconventional couple has been working very hard. "But we will go in August, as soon as I get time off work. I will run away!" says Kalki from Baramati, where she is shooting for Dibakar Banerjee's Shanghai.
Perhaps that is the reason the actor, who will be seen next in Zindagi Na Milegi Dobara, has been losing weight. She vehemently denies it. "I have actually been working a lot. I need to go off and sit on my bum and do nothing, just eat lots of good food."
And maybe to compensate for the delayed honeymoon Kalki and Anurag have not one, but a couple of destinations in mind. She reveals, "Actually it depends on what mood we are in. I really love mountains, so I'd like to go to Ladakh, but if we are feeling very lazy we will go to the Andamans or Maldives. So it all depends on what mood we are in."
However, her woes as a married woman don't end there. She is even far from experiencing life as Mrs Kashyap. The new bride says, "Arey yaar, we have seen each other for some four days since we got married. I was whisked off to Latur and Baramati and he was busy with (Gangs of) Wasseypur, so he hasn't really had time to come and see me." But like a true romantic she quickly adds, "It's been a bit a sad, but that won't last for much longer. I guess we have our whole lifetime together now."
Speaking of romance, recently Kalki said in an interview that she wants her husband, who is popular for his dark and edgy films, to make a love story starring her. "I just told him that it would be a challenge for him to do a romantic film because his ideas are always so dark," she says. Push her to divulge if her filmmaker man has any sappy script tucked away in the corner and she laughs, "Right now there is nothing on the cards. All he has is Bombay Velvet, Goga and all these hardcore films."
Kalki confesses to being a sucker for onscreen romance, though she reveals her husband is better at it off screen. "I think I am a little more down to earth. I'll never forget a birthday or a special occasion," says she. "But he is spontaneously romantic, like he'll suddenly surprise me and show up in the middle of wherever, and things like that. So I think in a way he is more romantic. He lets out all his darkness onscreen. He is quite different in real life," insists the fond wife.