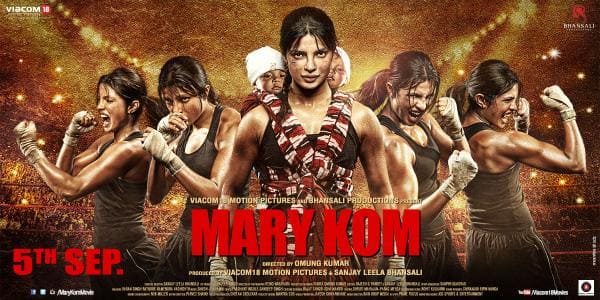 Music: Shashi Suman and Shivam
Lyrics: Prashant Ingole, Sandeep Singh
Singers: Vishal Dadlani, Arijit Singh, Sunidhi Chauhan, Mohit Chauhan, Salim Merchant and Priyanka Chopra

Priyanka Chopra's much-awaited film Mary Kom directed by Omung Kumar and Produced by Sanjay Leela Bhansali will hit the theaters next month. Just a few days back, the trailer of the biopic was released and it garnered rave reviews courtesy, Ms Chopra's acting prowess. While the Priyanka starrer, which is based on Indian Olympic boxer MC Mary Kom, looks promising, we wondered if the music is equally engaging? Lets find out…..
 Ziddi dil: Sung by Vishal Dadlani and composed by Shashi Suma, this track is an absolute delight to the ears. It's a motivational number but what makes it worth hearing is Dadlani's dumdaar voice. Also, this song has a rock feel to it which works in its favour and at the same time it's not surprising because that's Vishal Dadlani's forte, no? The talented singer has indeed nailed this one to perfection. It's high on energy and the lyrics by Prashant Ingole are beautiful. Lastly it's a feel good song which will motivate you if you're going through a low phase.
Sukoon mila: This one is a soulful number sung by none other than Arijit Singh and it seems this talented lad just can't go wrong when it comes to singing. Sukoon mila has been composed by Shashi Suman and penned by Sandeep Singh. It's a slow romantic track with guitar in the mainstay. If you crave for mushy romantic songs then you just can't afford to miss this one. It will certainly make you fall in love all over again!
Adhure: Composed by Shashi Suman and written by Prashant Ingole, this song has been crooned by Sunidhi Chauhan. Just like Ziddi dil and Sukoon mila, this song too doesn't disappoint at all. It's a breezy track with meaningful lyrics and at the start its just guitar in the background which makes it even more soothing to the ears. Sunidhi's voice is apt for this song and she sings it well. Though you may not like Adhure in one go, hear it again and you'll be surprised.
Teri Baari: After Vishal Dadlani and Arijit Singh, we have Mohit Chauhan singing Teri baari hai. This one is an inspirational song written by Prashant Ingole and composed by Sashi Suman. While Chauhan's powerful voice instantly makes and impact, the lyrics are equally influential. From music to lyrics to Mohit's voice, everything blends well making Teri baari a must hear. If you're a music buff this song is your answer!

Saudebaazi: Arijit Singh gets to sing another song but Saudebaazi is a bit different from the romantic number Sukoon mila. However, the talented singer aces this one as well. This track has a certain depth to it which makes it dark yet very soul stirring. Apart from Arijit's voice, its Shashi Suman's music which makes this song a treat to the ears.
Salaam India: Vishal Dadlani is back but this time keeping him company is Salim Merchant. Composed by Shivam and penned by Sandeep Singh, Salaam India is the patriotic number in the album. It's upbeat, powerful and has all the elements to bring out the feeling of patriotism in you. Yes, its more of a situational song but its a good track so you can hear it any ways. While Vishal and Salim have sung their parts well, its music compose Shivam who walks away with the cake here.
Chaoro: This one is a lullaby sung by the lead actress of the film Priyanka Chopra. Yes, its her first Hindi film song and wethinks she couldn't have asked for a better debut as a singer in Bollywood than crooning Chaoro. As soon as the track starts, its easy to figure that Ms Chopra is behind the mic. And must we admit, the B-town beauty has sung the song very well. Since its a slow paced track you may not want to listen to the very end. But do hear it because PC's voice is indeed soothing.
Verdict: Composing music for a sports film is always difficult but we think Shashi Suman and Shivam along with the singers and lyricist have come up with a terrific album.
Rating:
out of 5
Reviewed by Namrata Thakker
* Poor
** Average
*** Good
**** Very good
***** Excellent