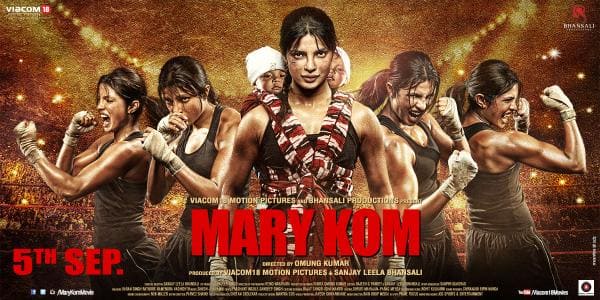 The trailer for Priyanka Chopra's severely awaited Mary Kom will be out today. Here is another poster from the biopic that has just been released.
With Mary Kom Priyanka Chopra is ready to pack a punch but in ways more than one. The actor will not only essay the role of Mary Kom, the Olympic medallist boxer who made the nation proud she will also be playing the role of a mother.
Mary Kom is a mother to a set of beautiful twins in real life and she has often been quoted saying that her kids makes it hard for her to train relentlessly as they need their mother while she needs to practice and take care of them. The boxer juggles motherhood and boxing quite commendably and PC too will now be seen mirroring the same onscreen as Mary Kom.
Seen in the poster garbing a set of muddied track pants and a tank top, PC is seen in Mary Kom's stead looking every bit the boxer she is playing. But in the centre she has her twins behind her thus reiterating the fact that as the ace boxer Mary Kom she also has her family to look after.
In a life with flashes of racism and heartbreak, Mary Kom emerges victorious and we know that PC fill in the large shoes most brilliantly!