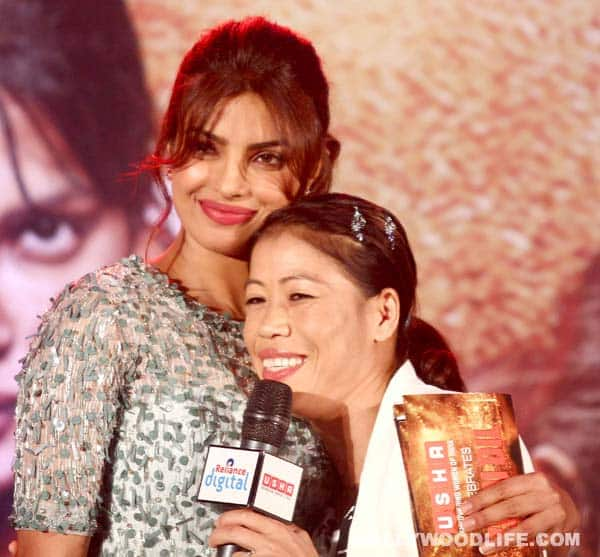 The medalist boxer thinks that no one but PC could have played her onscreen so beautifully
Mary Kom was in town recently to promote a biopic on her life. She tells us about how she felt when she heard a film was being made on her life, and why Priyanka is best suited for the title role.
What was your reaction when you heard a film was being made on you?
Initially, I didn't believe it when the director Omung Kumar came to meet me in Manipur where I stay. This is before I won bronze at the 2012 Summer Olympics. When Omung came to me I was a five-time World Amateur Boxing champion. I was surprised why he would want to make a movie on me and thought he was joking or gone mad! Boxing, especially in women's section, is not so well known in India as it's hardly reported, and no one recognized me as Mary Kom. I told Omung that my managers would speak to him. Now I am feeling very happy and excited that a film on me has been made.
You must have gone through a lot of struggle.
We used to get very little facilities from the government. Once in Hissar, when we were playing for the national championships, the terrible conditions made us suffer so much. It was extremely hot and where we stayed the facilities were not much to relieve the heat. Women in boxing are not looked upon with too much respect. Of course now after we won, we have better facilities. I can never fully express how difficult the journey has been for me.. to reach where I am today and what I went through. It's all true what happened except the songs bit which they had to put in to make it more commercial.
Do you watch Bollywood films?
Yes and I love Bollywood songs! I love to watching films too but we don't have time because we are practising. When we get free time, I watch films. I love to watch action masala films. I love watching films on boxing too. My favorite ones are Million Dollar Baby and Rocky 1-100 (laughs)!
How did you find PC when you met her?
I liked her when we met for the first time in Mumbai. She shared her life story with me and it was similar to mine. She said people find her something of a tomboy though she wasn't. I loved that! Even everyone at home would call me a tomboy as I would often dress like a boy and wear jeans and tees and loved playing with boys. But in spite of all that, I am not a tomboy. I found Priyanka to be a very simple and kind person. She likes eating a lot (laughs). Boxing is very different from dancing and acting and she has poured her heart and soul into it. It's the first time she's doing hardcore action. I loved the promo and when I saw it for the first time, I was moved.
If not PC, which actress should have done the role?
I don't think anybody could have done it as well as Priyanka. Priyanka is the best actress to play me. Acting anybody can do, but boxing will be different as one needs a certain type of body structure. Priyanka suits that. Her body is very structured, like that of a boxer. I think Omung and Sanjay Leela Bhansali made the perfect choice. I really believed she can do it.
Have you she seen PC's films?
Yes, I have seen most of them, but the one I love the most is Barfi! Priyanka was fabulous in it.
Who is your favorite Bollywood actress?
No one yet, butI think after Mary Kom releases, Priyanka will become my favorite! Everything has been done so realistically and Priyanka has performed so well. It's like seeing my life's story in front me. It's surreal.