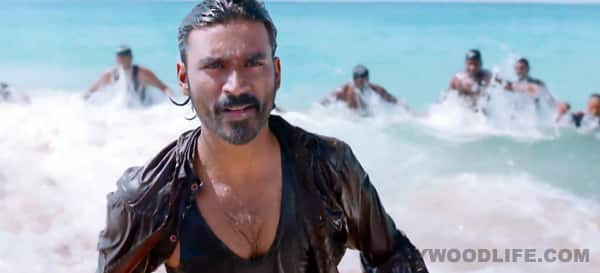 The renowned Bharatbala's Tamil film lacks pace but makes up for it with Dhanush's acting and Rahman's music
When an acclaimed ad filmmaker makes the transition to cinema, it does evoke a lot of interest. That is what happened with Bharatbala, the man behind the hugely popular Vande Mataram video, who has forayed into the silver screen with Maryan aka Mariyaan, with Dhanush as the hero.
Pre-release hype can work both ways. So, while huge expectations were built in the run-up to Maryan's release, the viewing experience is somewhat dampened by the slow pace of the narration. What lifts the movie though is Dhanush's brilliant work as an actor and, as is to be expected, AR Rahman's wonderful score. The cinematography is commendable as well.
The story goes like this: Maryan (Dhanush) lives in a village near Kanyakumari and is a happy-go-luck person enjoying life in the company of his friends. Things change when he falls for Panimalar (Parvathy), who hails from the same village.
Her father (Salim) is under pressure from a local henchman, who wants to marry Panimalar. Maryan steps in and tries to rescue his beloved's father and agrees to go to work in Sudan as part of the contract. It is smooth sailing for Maryan until he decides to return after a couple of years. He is kidnapped by ultras. Whether he manages to escape from their clutches, forms the rest of the plot.
Dhanush, who recently made a sparkling debut in Bollywood with Raanjhanaa, revels and excels in a role that gives him huge scope to perform; his performance is real and heart-wrenching – whether he is showing joy, pain or love. Poo girl Parvathy Menon fits her role well and shows off her acting talent, too.
Rahman has come up with memorable numbers, while cinematography by Marc Koninckx adds lustre to Maryan.
To sum up, Bharatbala's directorial debut is a letdown in parts. But Dhanush carries the movie single-handedly right to the finish line. And it is worth watching for his performance alone.
Rating:
out of 5
Reviewed by India Syndicate
* Poor
** Average
*** Good
**** Very good
***** Excellent