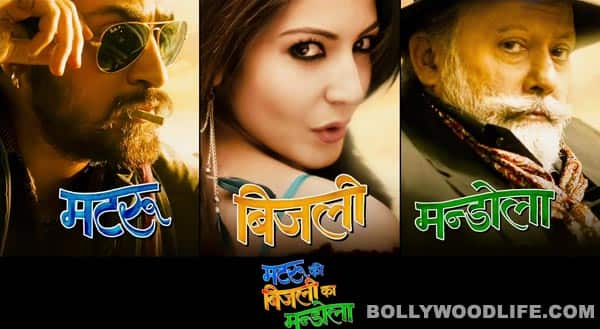 Cineswami observes that viewers across India are enjoying Matru Ki Bijlee Ka Mandola, a welcome sign in a land that embraces Salman Khan's Dabangg 2
Cineswami doffs a hat to Vishal Bhardwaj. The man continues to make interesting films that consistently push the envelope. However, he is hamstrung by the very industry he works in where largely film illiterate reviewers (barring one or two) are left scratching their collective heads at the man's genius and translate their combined lack of understanding into words of faint praise, thus damning an inventive film like Matru Ki Bijlee Ka Mandola. To get the criticism out of the way first, Bhardwaj needs a comedy editor, someone who really understands the beats of every gag and cuts the film sharply. Matru is at least 30 minutes too long and that is its biggest failure.
All credit to Fox Star Studios for having the guts to produce such a film, but perhaps they needed to intervene and inform Bhardwaj that the film is too long. Fox did the opposite a few years ago and killed a wonderful film. Shashank Ghosh's brilliantly black comedy Quick Gun Murugan wowed the festival circuit and had international audiences rolling in the aisles when they watched the 90-minute cut. For the Indian release, Fox intervened and local audiences were forced to sit through a bloated two-hour plus version and predictably, the film failed.
If we look past Matru's elongated running time and boil it down to the basics, it is a work of comic intellect replete with throwaway funny lines that demands repeat viewing to enjoy the joke fully, much like the best works of the Marx Brothers. It is also surreal and absurdist without being absurd not unlike Pankaj Parashar's comic masterpiece Peechha Karro. For all the critical bashing, audiences across India appear to be getting and enjoying Matru, a welcome sign in a land that embraces Salman Khan's Dabangg 2, bent over.
Our so-called trade analysts are decrying the fact that Matru has collected 'only' Rupees 22 crore in its opening weekend. Pray, why 'only'? Why not accentuate the positive? After all, the only competition the film has this coming Friday are non-starters like Inkaar and Bandook with the discerning audience having a better choice with the Marathi film Pune 52. Bhardwaj and Fox meanwhile remain bullish about Matru's prospects.
Bhardwaj says, "Our country is going through a massive transition and I wanted to make a film about the social and political scene in the country but wanted to do it in a humorous tone. The response from the public and specially the young adults has made me realise that Indian audiences are open to satire that doesn't always state the obvious."
Fox CEO Vijay Singh adds, "MKBKM is a very special film. It has the audacity to take on real issues in our society but present them with such wicked wit. It's funny, it's intelligent, and it's cool. It is the new age Jaane Bhi Bhi Do Yaaro! The film is being appreciated by plex audiences, in particular across the North, Bangalore and Hyderabad."
So, if you haven't watched Matru yet, do. Pancho, pancho as Pankaj Kapur says in the film.