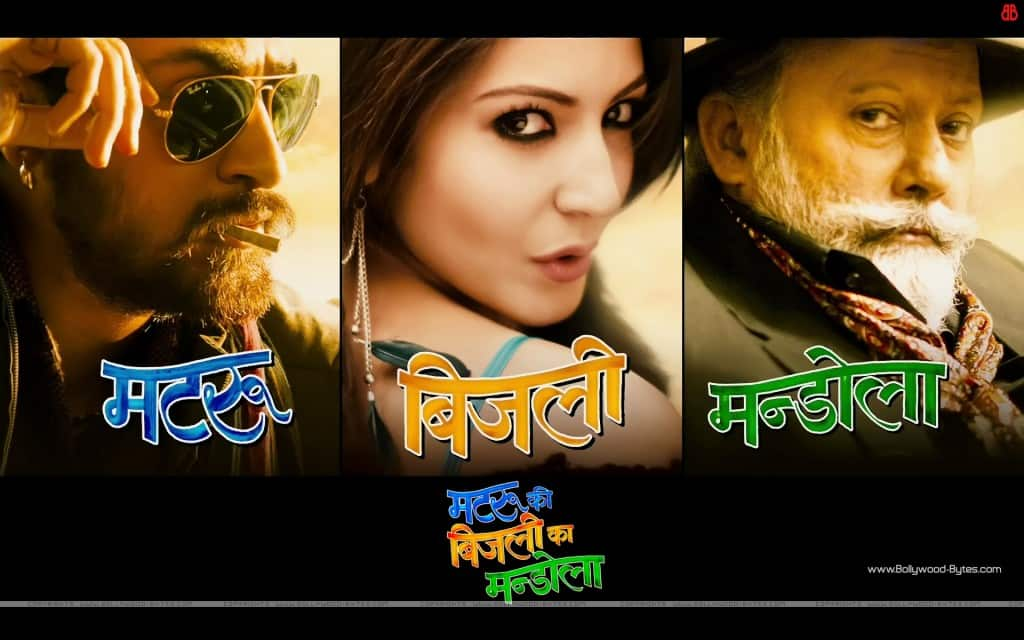 Music: Vishal Bhardwaj
Lyrics: Gulzar
Singers: Vishal Bhardwaj, Sukhwinder Singh, Prem Dehati, Rekha Bharadwaj, Pankaj Kapur, Imran Khan
Rating: ***
Vishal Bhardwaj is known to create music that is soulful, meaningful and entertaining at the same time. Whether it was Omkara, Kaminey or Saat Khoon Maaf – the director-music composer has composed some memorable albums that have stayed with us. Has he managed to do the same with the music of Matru Ki Bijlee Ka Mandola? Well…almost.
The album begins with the title song – a high-energy, fun number. The acoustic guitar in combination with the electric guitar and hand drums creates a musical riot. Add to that an African chorus that enters midway through the song and you've got one of the most masaledar yet musically superior dance numbers of the year. Gulzar writes earthy lyrics like Aate ki roti, mitti ka chulha that are in sync with the mood of the film. And singer Sukhwinder Singh is in great form after a long time.
Oye boy Charlie is a quirky desi number with Hinglish lyrics sung by Rekha Bhardwaj, Shankar Mahadevan and Mohit Chauhan. It's a crossover between a Haryanvi folk song and a qawwali. Oye boy's tune is addictive – the sign of an instant hit!
From a quirky zone, the album moves into a more romantic mood with the next couple of songs. Vishal Bharadwaj sings a romantic number in all his albums –  O Saathi re in Omkara, Bekaraan in 7 Khoon Maaf and now it's Khamakha in Matru… Vishal's sluggish charm makes this song soothing and touching. Gulzar's lyrics have great imagery – Ubla ubla kyun lagta hai yeh badan, yeh jalan to khamakha nahin – making it a beautifully romantic song. The track ends with Prem Dahati's Haryanvi chants that are ironic, but obviously situational.
Badal uthiya ri sakhi, a semi-classical song, has two versions – one sung by Rekha Bharadwaj and the other by Prem Dehati. Dehati's voice is earthy – it smells of the Haryanvi soil, adding depth. Rekha's version is lighter and soothing. The sitar solos create an interesting folk fusion sound.
Now get ready to move into the socio-political zone. Chor Police is a 58-second long song snippet sung by Pankaj Kapur that talks about scams and corruption, the real theft that happens in the country. A political statement, this song is fast-paced and thrilling.
There are more such numbers. Pankaj Kapur and Imran Khan lend their voices to Char dina ki, a street play-meets-wedding band number. Then comes Shara ra ra – a one-and-a-half minute track sung by Dehati – which is also on similar lines. Once again, it has the quintessential Haryanvi folk music flavour and lyrics that are laced with instruments used in a wedding band trumpets, dhols and cymbals.
There's another politically charged song by Sukhwinder Singh called Lootnewale. Clashing cymbals, heavy drumming and guitaring light up this song on a farmers' rebellion. The reprise version is also appealing and has a marching song quality to it.
There's a Zulu track called Nomvula which means 'after the rain' (It is also a famous song by a Afro-pop band Freshlyground). Sung by Umoja (in the film by the African farm workers), it's typical of Carribean dance music with heavy percussion and a chorus.
All in all, the Matru Ki Bijlee Ka Mandola soundtrack is mix of romance, masala and socio-political messages. Entertaining, quirky and meaningful at the same time, this one's truly an Afro-Haryanvi carnival!