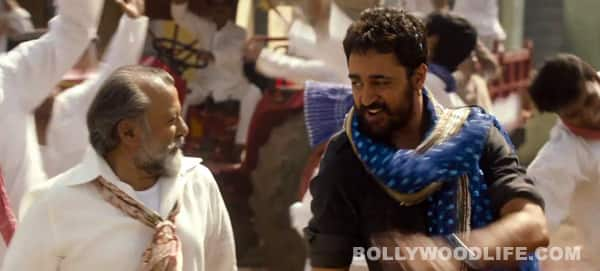 Watch the the leading men of Vishal Bhardwaj's forthcoming release prod villagers into action with their antics in this entertaining number
Sung by Sukhwinder Singh and Master Saleem, Lootnewale from Vishal Bhardwaj's forthcoming release Matru Ki Bijlee Ka Mandola – starring Imran Khan, Anushka Sharma and Pankaj Kapur – is charged with electrifying energy. In this unique number composed by the director himself, Bhardwaj adds a rustic tadka to the screenplay. We see Imran (Matru) and Pankaj (Mandola) galvanise the crowd to stage a revolt.
Looks like the two are up in arms against the system to fight the injustice they have been suffering. While Imran adds his youthful zest into this number, the veteran actor Pankaj Kapur infuses a delectable performance though his difficult-to-mimic expressions and inimitable body language.
Written by Gulzar, Lootnewale has the unmistakable touch of Bhardwaj's rustic drama. The choreography is raw, real, rural and absolutely rooted. Sukhwinder's unique voice does full justice to this rebellious track. Now you watch this hatke number and tell us if it leaves you emotionally charged!