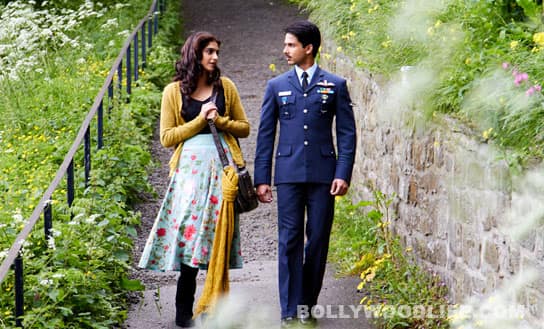 The unreal romance, forced situations and a stretched and repetitive plot make Pankaj Kapur's Mausam an exasperating experience. Even Shahid Kapoor's fine acting isn't enough to rescue this inherently flawed script
Mausam is a love story set in the early '90s and runs through a course of 10 years. And that's where the biggest problem in the script lies. How can an old style romance of stolen glances, silent meetings, suffering and long hauls of separation be set in a time when everything from love to communication happens at faster than lightning speed? But if you are willing to let go of this flaw continue reading…
The story is about a Hindu boy – Harry aka Harinder Singh (Shahid Kapoor) – and a Kashmiri girl – Aayat Rasool (Sonam Kapoor) – who are torn apart by destiny and communal violence. No, their parents aren't against their love. It's just that every time they are one step away from uniting forever, some communal attack takes place and hinders it.
It spreads over four time periods beginning from 1992. In the first part Harry and Aayat meet in Mallukot, a small town in Punjab. Soon after they profess their love to each other they are separated, because a mob of Hindu fanatics attacks the Babri Masjid in Ayodhya. Then the story takes a big leap of seven years; once again they meet, this time in Edinburgh, Scotland, and rekindle their romance. They are about to make wedding plans when destiny strikes again. The Kargil war has begun so Harry, an Indian Air Force pilot, has to rush back to India. In the second half there is another series of meetings, misunderstandings and separations which are well-timed with two more communal attacks – the destruction of the World Trade Center in New York and the Gujarat riots. Eventually love triumphs and the two estranged lovers reunite in the most predictable way. Towards the end you feel that this couple isn't separated by fate, but by an unreal script.
Ace actor Pankaj Kapur's first directorial project starts off on a slow note. For the first 20 minutes the story revolves around Harry and how he brightens his boring existence with his over-smart antics. Once Aayat enters his life, the narrative gathers some pace, but the old style romance just looks too forced, especially for the era it is set in. For instance, Harry and Aayat are instantly attracted to each other, yet they take their sweet and irritatingly slow time to meet. One night they do end up in the same room, but the two prefer to converse via handwritten chits.
That's not all. While at many times you can't relate to the characters or the story, there are umpteen instances that you feel are far-fetched. Like when Aayat and her family relocate to Scotland after the Ayodhya riots. Now which Indian family, especially from a small town, will move to the old town of Edinburgh to escape from their situation at home? It seems like a desperate attempt to bring alive the old world charm of the romance through medieval structures in the city. What is even more bizarre is that Harry and Aayat end up being at the same place at the same time.
As a director Pankaj Kapur manages to create some beautiful moments on screen, but his faulty script overpowers it all and the film suffers. And what's with the Punjabi music score all through the film? Pritam's songs are neither hummable, nor do they pep up the drama. However, Binod Pradhan's cinematography and late Samir Chanda's art direction do provide some solace, though it isn't enough to save the film.
The senior Kapur has tried to showcase every talent that his star son possesses. Shahid plays pranks with a smile, flies a fighter plane with elan, pines for love like Romeo and climbs a Ferris wheel with a paralysed arm and saves a child like a superhero! Thus there's not much for anyone else to do, not even leading lady Sonam Kapoor. All she does is scream and cry in the middle of night and mumble once in a while. And thank god it stopped with that!
In times when films are replete with love and lust this old style romance seems like a breath of fresh air when it begins, but the contrived plot turns it into a nauseating smell that is suffocating!
Click to read Mausam quick review