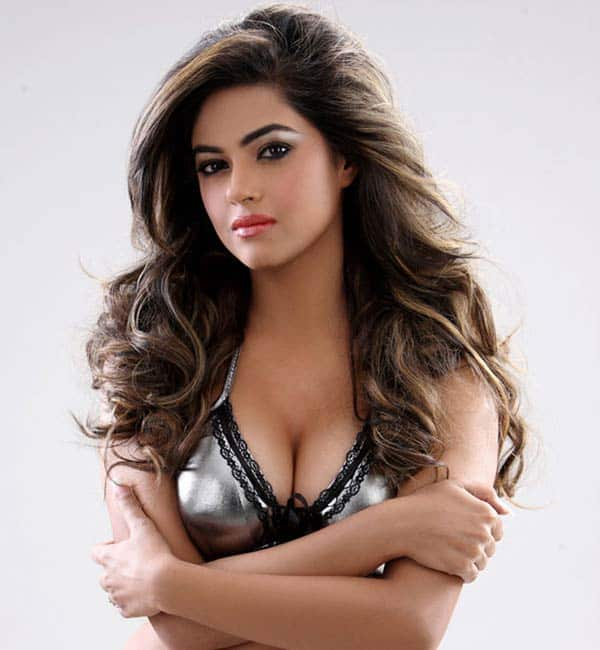 In a candid chat Meera tells about why she wouldn't do any more south films and also talks about her equation with cousins – Priyanka Chopra and Parineeti Chopra. Excerpts from the interview…
After doing about 15 south films, Meera Chopra is all set to enter the Hindi film industry with this week's release Gang Of Ghosts. We met her at the Venus Films office where she opened her heart out to us.
Your upcoming film Gang Of Ghosts is a remake of a Bengali film Bhooter Bhobishyot. Have you seen the original film?
Not completely. I have seen the film in parts. But I have many friends who have seen the film and they have told me that it is a fantastic film. I recently visited Kolkata and then only I came to know how much people respect that film there. The film has attained cult status there and people absolutely love the film. I am happy to be part of such a hugely respected film.
You are playing the role which was originally played by Mumtaz Sorcar. Can you tell us the kind of changes done to your character to suit the Hindi audience?
I guess Satish Kaushik, the director, has given me more songs and he has extended my role a bit. Actually when I took up this role, I had a slight apprehension that the role was very small as I was also doing 1920, where I had a solo lead. So keeping that in mind, Satishji decided to extend the screen space and give me more songs. Otherwise the soul of the character is the same.
We know that you were working for NDTV, so how did you end up in films?
After completing my education in US, I was working in Delhi for NDTV, that's when I got an offer for a Tamil film. I did that and it became a hit. Suddenly I was flooded with other south film offers. I kept on signing one after the other and did almost 15 films in a span of three years.
How different is the work culture in Bollywood than it is down South?
I can't compare both of them at all. Bollywood is evolving now and South still has a long way before it reaches there. In South films, there is a protocol, that you have been asked to do it this way and you are supposed to do it that way only. You can't do a lot of improvisations, whereas Bollywood is much more flexible. I got frustrated after doing those 15 south films as everything was almost typical, whereas in Bollywood I have a lot of scope to grow as an actor. Everything about south films is bad. And working in a Bollywood film came as a welcome breather.
We have seen a pattern. Every heroine nowadays prefers doing South films first and then come to Bollywood. Why did you also choose the same path?
Look, I did a South film first because it came to me. I was not trying for it. If a Hindi director had come to me with a film I would have done that first and I would have done my debut with Bollywood films. The South director saw my picture in some magazine and got in touch with me and asked me to come down to Chennai and meet them for the role in the film. I went there and I came to know that it was a big budget film which had a superhit hero playing the main lead and it had AR Rahman's music, so I figured out that there was no point in saying no to this film. Thus I did it. Every movie I did in South I always used to say that this is my last film here but it didn't happen as I continued getting tempting offers. After three years, I was fed up and came to Mumbai and got this film.
Is Gang Of Ghosts a perfect launch vehicle for you as it has ensemble cast?
Actually yes! I although signed Vikram Bhatt's 1920 first but it is yet to release and this film got completed before. I feel whatever happens, happens for good only. If it is an ensemble cast then the good part is that I don't have the full burden of the film's success on my shoulders. Thus it is a perfect launch as I don't have all the responsibility of making the movie a hit.
Tell us about your equation with your cousins Priyanka Chopra and Parineeti Chopra…
Look, media has been writing a lot about this but most of it is not true. I share a comfortable relationship with Priyanka but I am not that close to her that I just pick up the call and say "Hey wassup". For me Priyanka has always been a superstar much more than my sister. For me family comes as an added bonus. She has always been supportive of my work. She has seen many of my South films and called me up to congratulate and she did the same with Gang Of Ghosts. In my initial days in Mumbai I used to get baffled with all these reports about our relationship coming up. She gave me a very good learning when she said that don't get baffled by media in Mumbai because that is one thing you can't stop. They will write what they want and you just have to learn to ignore and live with it. I never needed to do a public display of my relationship with her and still it is the same.
…and is your equation the same with Parineeti?
No. There is absolutely no equation with her. I have always been closer to Priyanka and have never been that close to Parineeti.
How is your equation with director Satish Kaushik?
Satishji is a great human being. I remember when I came to him he had said that the role was not that big. He promised that he would make the necessary changes and make my role come out livelier. And to be honest he kept every promise of his. Working with him was stress-free and I absolutely love him as a director, as a mentor and as a human being.
The movie is all about ghosts. Do you believe in ghosts?
No. I don't believe in ghosts at all. I have never seen them and thus wouldn't believe. The day I see some ghosts I would definitely believe that they exist. I really really want to see some ghosts!
The tag line of the film says "Bhootiyapanti" which suggests some comic funny incidents. Do you have any such funny incidents from during the shoot of the film?
To be honest I did not get to know when the movie got shot and it got over. Everybody was doing pagalpanti on the sets. I have never done a film where everybody is crazy and is doing some or the other pagalpanti. It was a great working experience with actors who are so great in doing comedy that it comes naturally to them, and you wouldn't get to know that they are acting.
What other future projects do you have?
I am doing Vikram Bhatt's 1920 and nothing else for the time being. I want Gang Of Ghosts to release and after seeing its response I would want to sign another film. If it's a big hit then obviously I will get better projects. Thus I want to wait and watch for now.