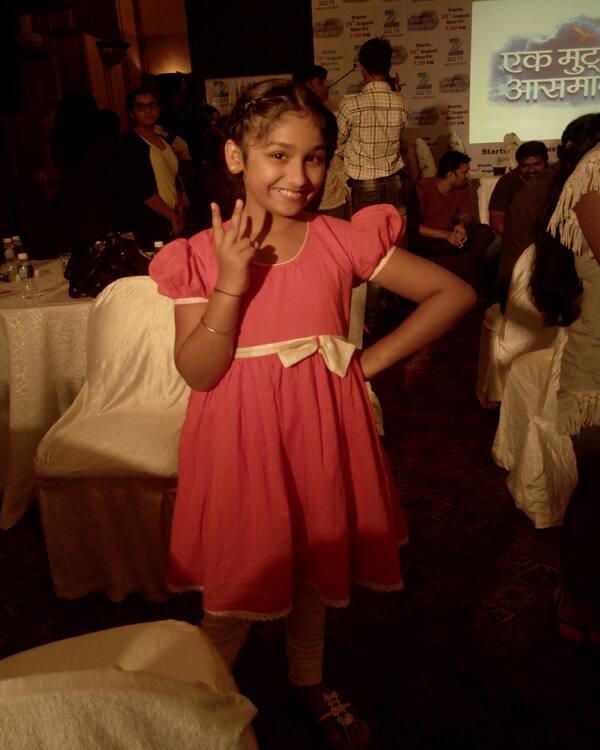 She's cute, adorable, pretty, talkative and just ten years old
Mehnaz Maan was one of the child contenders on Zee TV's India's Best Dramebaaz (IBD). She may not have bagged the first prize, but she is bundle of talent. Though only ten, she has the confidence of 24-year-old. The little girl talks about her dreams, life post IBD, her aspiration to work with Anurag Basu some day and more…
 How has your journey been post India's Best Dramebaaz?
It has been great. Post the grand finale of IBD I got a call to audition for Ek Mutthi Aasmaan. I couldn't come to Mumbai for it, so I recorded it and sent the production house my tape.
So have you moved to Mumbai?
No, I still live in Chandigarh, but I come here whenever there's a shoot. If it's just for a day or two, I stay back.
Do you enjoy shooting, or do you find it stressful?
I love shooting. The bigger the dialogues, the more I enjoy it. I get to meet new directors and actors; it's a great learning experience.
How do you manage your studies along with work?
I am in the fourth standard. Whenever I miss school work, I take notes from my friends. I sometimes even study when I am shooting.
Have your friends started treating you like a star now?
All my friends treat me the same. I am just like a friend to them.
What's your aim in life?
I want to be an actor and dancer now, but I do not know about the future.
Tell us something about your role in Ek Mutthi Aasmaan….
I am playing Shilpa (Shirodkar) ma'am's daughter Kalpana in the show. She is a bai (house help) who works in a rich household so that she can provide for my future. She doesn't want me to end up like her. She wants to make me a teacher or collector or lawyer some day. The story is about how she tries to build her children's future.
Are your parents happy with your choice of work?
Both my parents don't force me for anything. This is my passion; no one pushed me into it.
So how did the acting bug bite you?
My mother is a theatre actor, so I learned a lot from her. My interest in this field developed from there. My mother enrolled me in Wings Theatre Academy in St Kabir School. Besides having a lot of fun, I got to learn a lot there.
Who is your role model from the film industry?
Madhuri Dixit and Juhi Chawla are my role models.
Is there a specific director you wish to work with?
I like Anurag (Basu) sir's work. I have seen his movie Barfi! I'd really love to work with him some day.
With the pressure of your acting career and school work, do you have time to do anything else?
Yes, there's a lot of time for everything. I divide my time according to my requirement.