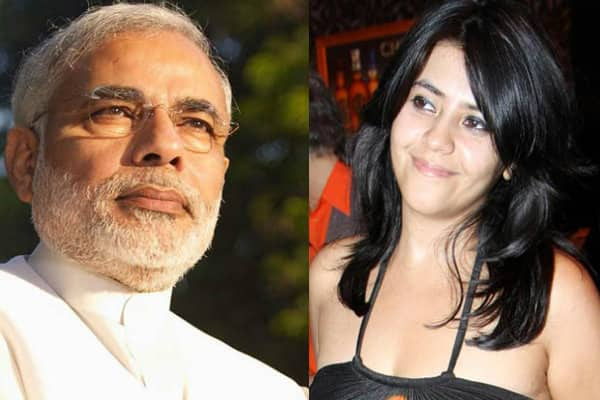 Ekta Kapoor has come up with a brand new show and looks like her inspiration is none other than our PM Modi. What's going on? Read on to know more….
Meri Aashiqui Tum Se Hi, which is set to hit the floors on June 23, saw its launch today. The Iron Lady of televion, Ekta Kapoor herself, was seen giving a few bytes to the media regarding her upcoming show.
When asked about her fixation with depicting Gujarati households in most of the shows, including Meri Aashiqui Tum Se Hi, Ekta Kapoor said "Well I love Gujaratis. And why not have a Gujarati household now that our PM is a Gujarati man, Mr Narendra Modi himself? "
This humorous answer of hers surely earned her a lot of brownie points. She was also seen talking about Gauri Pradhan's comeback on television saying, "I have known Gauri for many years now. She has a very pretty face so her character has always been consciously positive. But in this show, her role is different. I wouldn't say it's negative, but is more edgy and has shades of grey."
With another love story set to dazzle telly land, we wonder what Meri Aashiqui Tum Se Hi has in store for us. The show stars Shakti Arora and Radhika Madan in leading roles and is set to go on air June 23rd.
We wish Ekta Kapoor all the best for her upcoming venture!