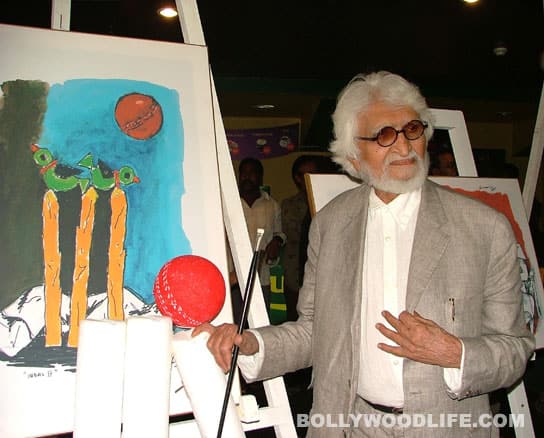 It is with great sadness that Cineswami notes the passing of India's greatest ever artist, and occasional Bollywood filmmaker Maqbool Fida Husain, who died in distant London on June 9. Several obits will no doubt refer to the great man as the 'Picasso of India' but I beg to differ. He was, simply put, the Husain of India
I had occasion to meet the man twice; once when he unveiled his Madhuri obsessive paintings in Delhi, the series that led to Gaja Gamini; and again a couple of years later where the film was screened at London's Tate Modern museum as part of their Century City: Art and Culture in the Modern Metropolis exhibition. The late painter delivered a riveting oration on the relationship between painting and cinema. And who better than him to speak on the subject as he had hand painted Bollywood posters in his youth. Husain's innings as a filmmaker began with the short film Through the Eyes of a Painter, which went on to win the Golden Bear for best short at the Berlin International Film Festival.
There was a long hiatus until 2000, when he made Gaja Gamini, his ode to Madhuri Dixit. The film itself is not for all tastes, eschewing as it does a conventional narrative for a stage-theatrical look at the feminine core of India and how she stimulates art. The film was shot with a painterly eye by Ashok Mehta, but even more artistry was displayed by Santosh Sivan in his frames for Husain's last film Meenaxi: Tale of 3 Cities (2004). Here, Husain replaces Madhuri with Tabu as his muse and looks at a writer and the different embodiments of women who inspire him. Meenaxi also benefited from outstanding music by AR Rahman.
ALSO SEE: Madhuri, Anushka, Vidya: MF Husain's B'wood obsessions!
It is a shame then, that India, a country priding itself in being the world's largest democracy, forgot one of the main requirements of being one – freedom of expression, thus forcing Husain out of the country, first to Dubai, then to Qatar where he accepted citizenship in 2010 and finally to London, where he breathed his last. Perhaps, Husain may not have wanted to stay back in a land dominated nowadays by cross-dressing godmen, ex-lady chief ministers who dance by Gandhi's memorial and corruption scandals popping up by the hour. He must be smiling down from the great studio in the sky and hoping that his son Owais Husain's forthcoming film Pehla Sitara that he wrote some dialogue for, does well at the box office and also hope that if his biopic The Making of a Painter ever gets made, he will be played by somebody with considerably more acting chops than Shreyas Talpade, who is currently pencilled in.
In the meantime, we could go back and pay tribute to the man by searching video libraries for Mohabbat, where Husain appeared as himself and hope that some kind soul dusts off his Raj Kapoor tribute, centred on Henna, and puts on an exhibition sharpish.