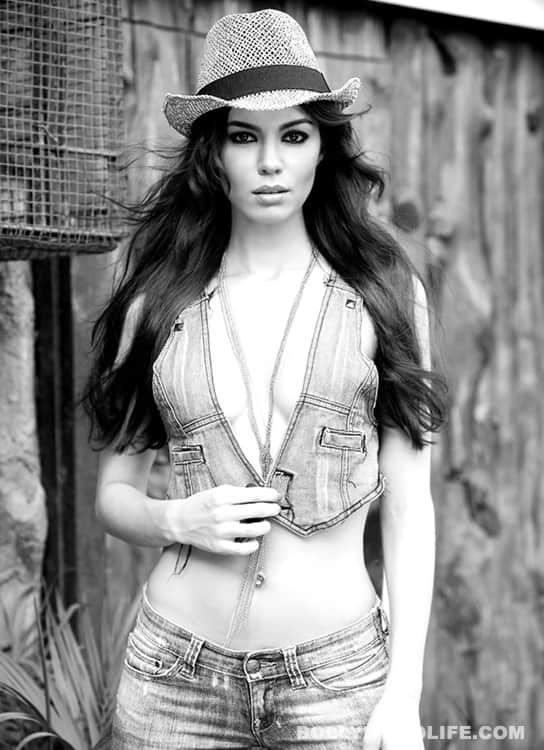 After doing an item number in the Kay Kay Menon-Rimi Sen-starrer, Sankat City, the Blood Money actor was last seen doing a cameo in Tees Maar Khan
Swimsuit calendar model Mia Uyeda spoke to us about her journey from Canada to Bollywood, being nervous while doing the intimate scene in Blood Money and how she doesn't care about being typecast as a vamp.
How did you bag the role in Blood Money?
I think it was pre-destined. You wouldn't believe that the first film that I watched when I came to India was Kalyug (producer Mahesh Bhatt wanted to title Blood Money as Kalyug 2). I have been here for about five years now and have enjoyed being a model for the longest time. One of my modeling assignments brought me to India and soon I was all over the place, on hoardings, advertisements etc.
When you try really hard, things don't happen but when you're not consciously trying, things fall right into your lap. My first film assignment was the item number in Sankat City. I just got a call from them and I agreed to do it. Similarly the cameo in Tees Maar Khan happened and I knew I had to do it, because it was a Farah Khan film.
Vishal Mahadkar, the director of Blood Money, had approached me on Facebook. Initially I thought it was a prank because I have heard so many girls get conned by guys on social networking sites. I was called for an audition at the Vishesh Films' office and that's when I thought it wasn't a fake one after all. At the office I was narrated the script of Blood Money and was told what exactly I was getting into. I loved what I heard and immediately wanted to play the part.
I was given a few lines to audition and an hour to prepare. I was nervous like hell and wanted to do the part. I did the audition and there was pin-drop silence. Vishal (director) told me that I was on board and I went 'yay!' That's how I bagged my first role.
How was the experience of working with your co-stars, Kunal Khemu and Amrita Puri?
Kunal has been around in Bollywood for a long time and I really admire his work. He has been a great co-star and helped me whenever required. He had no hang-ups whatsoever and you can see the chemistry on-screen. Amrita comes from a theatre background and having been to an acting school in Canada myself, I have great respect for theater actors because they don't have the option of a retake. Amrita and I got to spend a lot of time together and now we are good friends.
You have done an intimate scene in the film. Were you comfortable doing it?
To be honest, I was very nervous because I haven't done anything like that before. But I had complete trust because it is a Vishesh Films' production and they have shot such scenes in their previous films. They didn't show the girls in a bad light. The director, Vishal and Kunal helped me a lot. One thing I knew for sure was that if I am doing the scene, I will give it my all. What's the point of doing a half-baked job? The initial nervousness aside, once I got into the groove, it was my 'The Dirty Picture' moment. (Giggles)
You seem to be impressed with The Dirty Picture…do you think you could pull off something like that?
Yes, I am totally in awe of Vidya Balan, for her phenomenal performance in The Dirty Picture. As much as I would have loved to pull off what she did, the fact is that TDP was destined to be her film and as much as anyone would try, nobody would be able to replace her in the film.
Aren't you concerned about being typecast in such roles?
I really don't care about being slotted as a vamp. I am an actor and I love being on the sets. I don't care what the roles are; all I want to do is act. I appreciate the work of so many filmmakers and would love to work with all of them, but I can't take names. I just hope that people notice and like my role in Blood Money and I get more films.
ALSO READ: Vishal Mahadkar: The easiest thing would have been to bring Emraan Hashmi on board
Mahesh Bhatt: I wanted 'Blood Money' to be titled 'Kalyug 2′