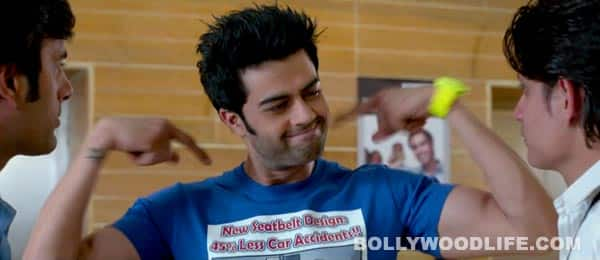 One can't help comparing the two VJ-turned-actors, but if you walk into the theatre expecting Manish Paul's debut to be anything like Ayushmann Khurrana's Vicky Donor, you will be proved wrong…
The similarity between Mickey Virus and Vicky Donor ends with the backdrop of Delhi and the Punjabi dialect the heroes speak. And, of course, the fact that you might just like Manish Paul's acting debut as much as you did Ayushmann Khurrana's. Mickey Virus is not just a comedy; it's an almost-perfect comic-thriller.Mickey Arora (Manish Paul), a street smart and lazy Delhi boy, a harmless computer hacker, is sought by the Delhi police to help the law track down a group of dangerous hackers, Bhram. This aimless boy-man is happy doing vellagiri with his set of friends – Chutney, Floppy and Pancho – and is content to create computer viruses sitting at his mother's grocery shop. Mickey finds his dream girl in a vegetable market – enter Kamayani George (Bigg Boss 7's Elli Avram).
The film's premise is explained by what Mickey himself says: 'Ek alsi aadmi ko jab ek mushkil kaam dedo na, toh woh asaan tareeka dhoond hi leta hain.' That's how Mickey manages to get access to the notorious Bhram gang's website in just 60 seconds, leaping through multiple firewalls. What follows is our hero's simple, happy-go-lucky life taking a mad twist and Mickey being embroiled in a tricky theft-murder case.
Manish Paul manages to stand tall even in his first film. He's a natural on camera and nowhere does the anchor overshadow the actor. Manish makes you believe that he is Mickey Arora – an aloof guy who is quite capable of hiding a trick or two up his T-shirt sleeve. If his spontaneous hosting is impressive on the small screen, the actor's spontaneity on the silver screen cannot be missed. Elli Avram's debut on 70mm is glamorous, she's far better than Nargis Fakhri in Rockstar or even Katrina Kaif in her first few films. Elli emotes and looks sexy enough for us to gauge her acting prowess.
The other actor who manages to hold his own is tellyland's Varun Badola as Delhi cop Devendra Bhalla; VB has delivered some perfectly timed dialogues with a punch in true Dilli-andaaz. Hope Mickey Virus does the same to Varun's career that Vicky Donor did to the talented Anu Kapoor's. Manish Choudhary as ACP Siddhanth Chauhan will remind you of Aamir Khan from Talaash. The film's writer/director Saurabh Varma has spiced his film with fun, geeky-gizmo one-liners, crazily funny dialogue and cool message T-shirts. Mickey Virus makes a smooth transition from a fun film to a good thriller. While this might not be the perfect comic-thriller, it's almost there, with some minor flaws that don't interfere too much with its watchability.
Manish Paul makes an impressive entry into Bollywood and we certainly wanna watch more of the actor!
Watch Mickey Virus trailer!
Rating:
out of 5
Reviewed by Rashma Shetty Bali
* Poor
** Average
*** Good
**** Very good
***** Excellent