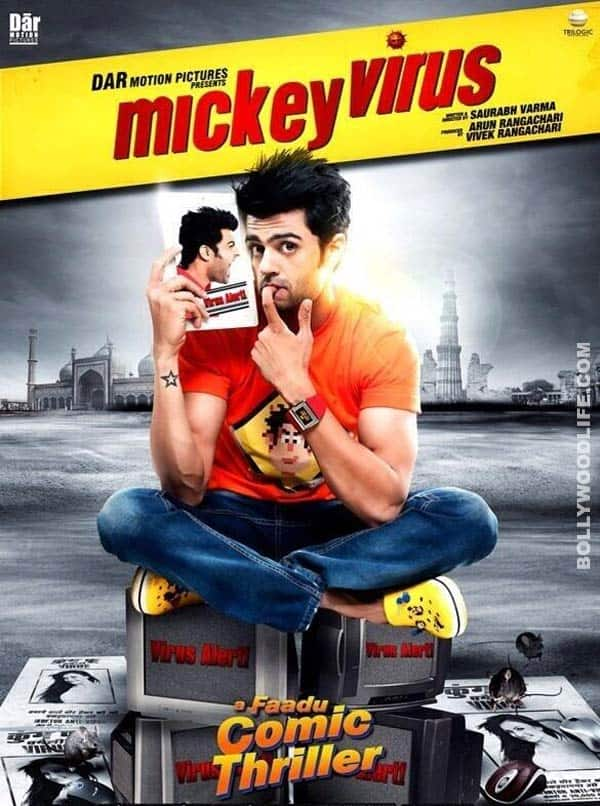 Music: Hanif Shaikh, Faizan Hussain, Agnel Roman
Lyrics: Hanif Shaikh, Manoj Yadav and Arun Kumar
Singers: Manish Paul, Arijit Singh, Altamash Faridi, Shadab Faridi, Mohit Chauhan, Palak Muchhal, Nikhil Paul George, Siddhant Sharma
Mickey Virus (MV), a comedy-thriller that marks the debut of celebrated TV host Manish Paul bears an uncanny resemblance to Ayushmann Khurrana's hatke debut flick Vicky Donor. Both movies have Delhi as the backdrop with the street-smart protagonists eventually proving their real worth. So comparisons are inevitable when it comes to the soundtrack too. Directed by Saurabh Varma, MV has music created by singer-turned-composer Hanif Shaikh, making it a fair mix of sounds and styles.
First up is Pyaar China ka maal sung by Manish Paul (similar to Ayushmann's Paani da rang) that instantly establishes the quirkiness of the album. Though it's a regular track, the amusing lyrics – Pyaar chale to chand tak warna yeh sham tak – may catch the attention of the youth, since it is aimed at a particular target audience. Paul's naughty tone sets the theme of the song.
Tose naina is tailormade for Arijit Singh, who's fast picking up assignments as a singer, attempting a certain style of songs and mastering that. Though Singh has his musical limitations, he sings this love number with earnestness. Hanif Shaikh's soulful lyrics are strikingly and mercifully different from Pyaar China ka maal! The rhythmic arrangement is very like that in Tere mast mast do nain (Dabangg).
Sajna ve, a Punjabi track sung by Altamash Faridi and Shadab Faridi is mediocre and sounds like a song of despair. Within a few seconds you know what this one is about and how it will end. It starts sounding drab with repeated listening.
Mohit Chauhan, who has been singing less of late, is back with Aankhon hi aankhon ne. The track belongs to him and his mighty presence is truly reflected in the slow lovey-dovey song that he makes his own, even though he's joined by the female vocals of Palak Muchhal. The beginning instantly harks back to Aaoge jab tum (Jab We Met). Palak sounds very much like Shreya Ghoshal and makes good music in conjunction with Mohit. The female version sung by Muchhal doesn't have anything special to offer, however.
And at the end comes the title track, Mickey Virus. Composer Faizal and Agnel's funny song is in the form of a conversation emphasising Mickey's inherent qualities and the mess his antics could get him into. The song will remind you of those old peppy classics like Paanch rupaiya baarah aana and Hum they woh thi sung by Kishore Kumar. Not exactly memorable, though the fun number is hatke in terms of its lyrics.
On the whole, the soundtrack of Mickey Virus isn't something you haven't heard before. Unfortunately, the album isn't unique or appealing enough to become a virus and infect you for too long!
Rating:
out of 5
Reviewed by Dhiren Trivedi
* Poor
** Average
*** Good
**** Very good
***** Excellent