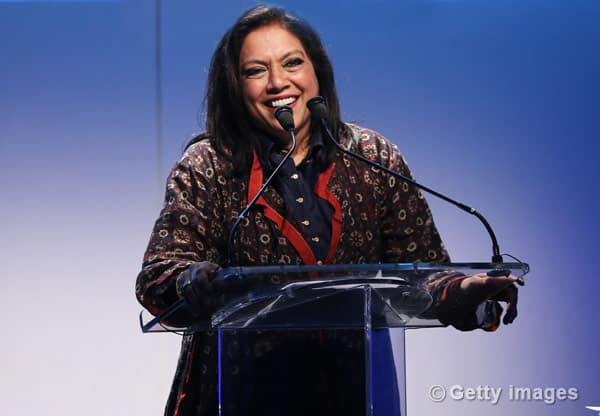 Padma Bhushan Mira Nair has a candid chat with British journalist and Indian cinema expert Ashanti Omkar about her latest cinematic release, The Reluctant Fundamentalist
At the London Film Festival you had a full house UK premiere for The Reluctant Fundamentalist and it's now getting a full worldwide release…
We finished the film in August 2012 and had it ready for the Venice International Film Festival for its world premiere, and then we pretty much sold The Reluctant Fundamentalist to the world by the time we reached Toronto and then the London Film Festival. We decided to go after the Oscars of 2013 for the worldwide release. I took a good break in-between, where I went to East Africa and planted hardwoods on the Nile, where trees don't ask questions, and I'm looking forward to an audience.
It was a film that you took quite a while to make… When you read the book, had you already envisaged how it would look on the big screen?
Well, a book is a springboard for a director's imagination and I wanted to bring to it a real sense of family, in the Pakistani context and a real sense of the culture that we hardly ever see on our screens. It also gave me a whole chapter of America that I have lived in and live in and love, and yet question and all of that.That dialogue was clear, in terms of what I wanted to say. I also wanted to make a thriller, as I have never really made one – and that is in the balls of the novel, because it is very enigmatic.
Tell us a bit about the lead character in the film…
You don't know who the lead character Changez is and what he stands for. That idea of mystery, of him not known which way he's going to turn, is definitely a motif that I have kept and hopefully sustained in the film. But the ending in the book is beautifully ambiguous and that is tough stuff to do in movies; you have to kind of know which way you're going. But I hope I found a way that retains that identity, but also gives the audience a concrete idea of what might have happened.
How was the author of the book of the film, Mohsin Hamid involved in this process?
It's another art form to make it to cinema from a novel and fortunately, Mohsin, the writer of the novel, has been so close to us and was a part of the screenwriting team and was with us throughout. This made it a wonderful and very open exchange of what we could do, what we could change and how I hope I retained the spirit of the novel.
How did you find the perfect actor to play the tough role of Changez?
It took me about a year and a half to cast the film – to go to England, California, New York, India, Bollywood and mostly Karachi and Lahore to find Changez, because it is a very challenging role. And finally, when I came back to London and met Riz Ahmed in a room for the first time, as opposed to just seeing his other films, the penny just dropped; it just clicked that he was Changez. It's almost like he owns the story – he brings to it not only such great sex appeal and charisma, but also such an intelligence, such an urgency and such focus. I wanted very much the authentic person who speaks Urdu, who can speak American English and who can go back and forth between the two without sounding too gora or firangi. I have a high bullshit barometer, so it is critical for me that you satisfy authenticity.
What was it like to orchestrate the fabulous chemistry between Riz Ahmed and Kate Hudson onscreen?
Amazing! The first rehearsal was just extraordinary, because Kate has no hangups – she's Bohemian, she talks and she's so open and fantastic. She was telling us the story about how her dad Kurt Russell (the famous actor of films like Tango & Cash) told her growing up that when she joins the movies she should never be the girl who sleeps with the actors; she was saying this and just chatting. So Riz, when he heard this, bearing in mind that it's the first time that they met, says: 'It's part of my deal and I've signed the contract – we have to sleep with each other. If you say no, I'm leaving. I'm out of here!' He walked out of the room and suddenly all the ice just totally broke and we all laughed and literally fell on the same page, completely. She called him back and was all hunky dory and it was all like that – so effortless and such fantastic chemistry. And you cannot direct chemistry – you can direct the hell out of everything, but not what happens between and man and a woman. That's really cool and they really enjoyed each other and they were wonderful together.
What captivated a lot of the audience was the music you picked – some of the most beautiful stuff from Pakistan, for example…
Music is a sustaining force for me – it's what often attracts me to a film so often; in The Namesake, it was a piece of music that I heard from Nitin Sawhney that made me make that film and therefore I went to Nitin to do the composing – and the same goes for every film, almost. It's the modern sound of Pakistan, largely embodied by the Coke Studio music that we hear…that just is amazing! This kept me going, when everything else was falling apart. That's why the Mori araj suno song – which means 'Listen to me O Lord, hear me out. I just have an appeal to live with respect' – kept me going throughout the trials and travails of making this film. That's what the movie is about – listen to us! And there are no words to describe the power of the poetry of Faiz Ahmed Faiz. This is where I come from and this is what I really wanted to pay tribute to.
Bollywood stalwarts Om Puri and Shabana Azmi took on pivotal roles in the film…
Well, I've always wanted to work with them and Shabana will tell you a story or two about how she used to stalk me, begging to be in one of my movies. They were just made to be in this one. I always wait for the right fit for where someone should go and, besides being amazing actors, Om ji is a Lahori Punjabi – you can't get more authentic than that – while Shabana comes from a very similar background, of a family who doesn't believe in money and comes from an illustrious background of literature and poems, who is also Left leaning and who needs capitalism. Mostly, she looks like Mohsin Hamid's mother! Just like in The Namesake, where Jhumpa Lahiri and all her family were in it. For me, Shabana embodied Mohsin's mum to a tee. And I'm so happy it all worked out with this film.
Kiefer Sutherland, the man we've seen in so many different avatars in the past – you've shown him as a tough corporate guy…
Kiefer is a very politically aware persona and he just loved the script and constantly said that it would be his honour to be in the film. I would tease him about this being to atone for being Jack Bauer, his character in 24. What a performance! He gave it everything he had. Beautiful work. He's one of those people, like many of us who made this film together, who wanted to be a part of a film that shows another way of dialogue, of reflection, of bridge-making… as to why we are here and why we have come to this.
ALSO READ: Mira Nair's new film on chess champion Queen of Katwe