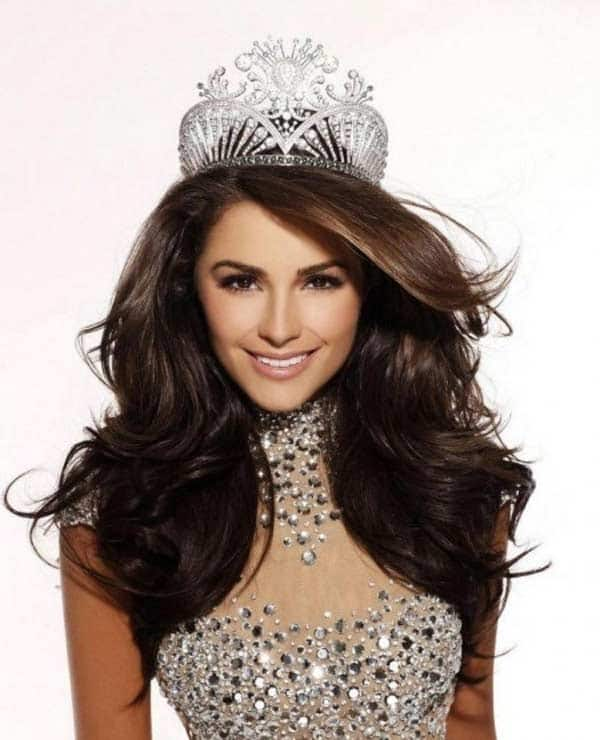 She was recently in the news for her link-up with Salman Khan
Miss Universe Olivia Frances Culpo's maiden visit has turned out to be quite controversial. Olivia and her team who shot for a footwear brand at the Taj Mahal have landed themselves in trouble. A case has been registered against them on an Archaeological Survey of India complaint.  Munazzar Ali, the Taj Mahal's caretaker told, "We have officially lodged a complaint against the group with Miss Universe along with photos as proof. The sandals from a bag she carried were taken and placed on the Diana Seat for shooting pictures which is not permitted by the ASI. It also amounts to disrespect and insult."
A marble bench at the central pond is named after Princess Diana who visited the Taj in 1992. The 17th century monument of love was built by Mughal emperor Shah Jahan. The police department too confirmed this news, "A case has been registered under the Ancient Monuments and Sites Act against Miss Universe, Sanjana Jon and others of the group."
The police were under pressure to ignore the violation but media pressure and objections by the tourism industry forced the Archaeological Survey of India to officially complain to the police and get a case registered.
The 21-year old Miss Universe with her group visited the World Heritage monument on Sunday. Sources also claim that It wasn't immediately clear whether her posing for photographs with a new pair of sandals was a calculated plan for commercial gain, or was the decision taken at the spur of the moment. The police, the CISF and the ASI indulged in blame game and avoided taking a decision one way or the other.
Culpo was escorted by UP Police personnel. The CISF, supposed to look after security and frisking at the entrance gates, "were too impressed and allowed her to carry her bag inside".
Abhinav Jain, a handicrafts exporter at the eastern gate of the Taj said, "It's the fault of the CISF. How did they permit Miss Universe to use the Taj Mahal backdrop to promote a product? This is not permitted." Culpo was in India to promote some charity and social concern issues. Police attributed the delay in registering the case to "investigations being made and footage study."
The Supreme Court directive prohibits use of the Taj Mahal for commercial purposes. Nobody is permitted to hold demonstrations or enter with banners within 500 metres of the monument.
Photo: Fanshare
ALSO READ: Get real, Oprah Winfrey!