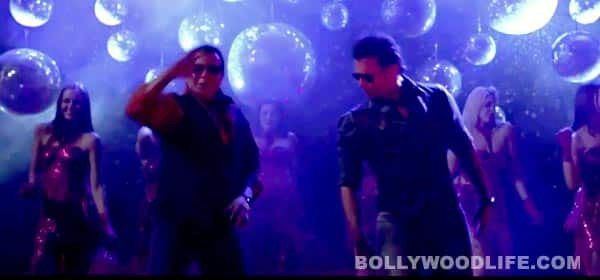 Oh, really? Yeah…that's what the father-son jodi resorting to some cheap antics in the song, Hit the lights from Enemmy say
Tansen had the power to light up fire through the raaga Deepak and bring down rains with Malhar. But it looks like our modern day Tansens – Mithun Chakraborty and his son Mahaakshay Chakraborty are one step ahead as they claim to control the solar system in the song, Hit the lights from director Ashu Trikha's upcoming film, Enemmy. The lyrics are tacky and meaningless with words like Mere bin suraj na aave… hit the lights now! Now, what does that mean? We translate the so-called dance number for you. Take a look!
Main jo akhiyon se ankhiyan milaon
Main hosh uda doon
Mera jalwa main aisa dikhaon
Jaadoo sa chala doon
Thodha sa khud ko khoya
Khoya phir khud ko paaya
Oye dil mein dhadka karta hoon
Main banke sabki jaan
I if eyes with eyes mix
I conscious fly do
Mine showing something entertaining I like this show
Magic like walk do
Little own lost
Lost again own gain
Oye heart in beating
I formed all life
Mere bin suraj na aave
Hit the lights now
Bring it on now
Mere bin yeh raat na jaave
Bring it on now
Mine without sun no come
Lagaa roshni abhi
Lao usko chalu abhi
Mine without this night no go
Lao usko chalu abhi
After watching the movie (Enemmy), you might get to know of some other superpowers that Mithun and Mahaakshay are bestowed with!