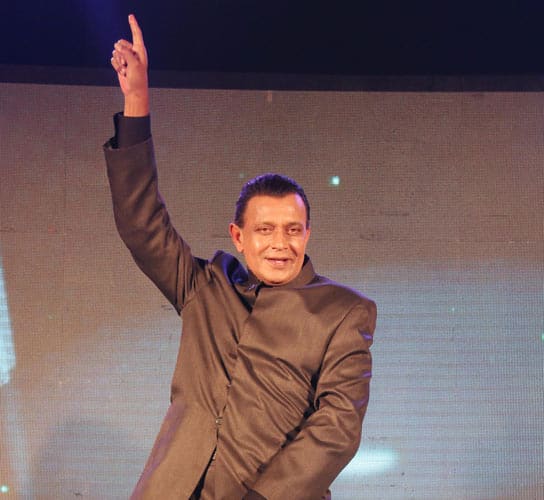 The man once revered as 'Disco Dancer' and now considered mentor par excellence, Mithun Chakraborty spells eccentricity, uninhibited zest and enviable mass appeal
The canvas of his cinema has been expansive and the titles of his films explosive, but when the titles of his larger-than-life films were translated into English we couldn't help bursting into giggles. We're sure even Mithunda would have a hearty laugh at our cheeky attempt, if he knew about it!
 Aisa Pyar Kahan Tyagi
Where did you sacrifice such love?
Pyaar Jhukta Nahin
Love doesn't bend
Pasand Apni Apni
Choice ours ours
Phool Khilein Gulshan Gulshan
Flowers blossomed garden garden
Kasam Paida Karne Waale Ki
The pledge of the birth-giver
Humse Na Takrana
Don't collide with us
Pati Patni Aur Woh
Husband, wife and that
Swarg Yahan Narak Yahan
Heaven's here Hell's here
Hisaab Khoon Ka
The calculation of blood (Do they mean the platelet count?)
Hum Intezaar Karenge
We will wait