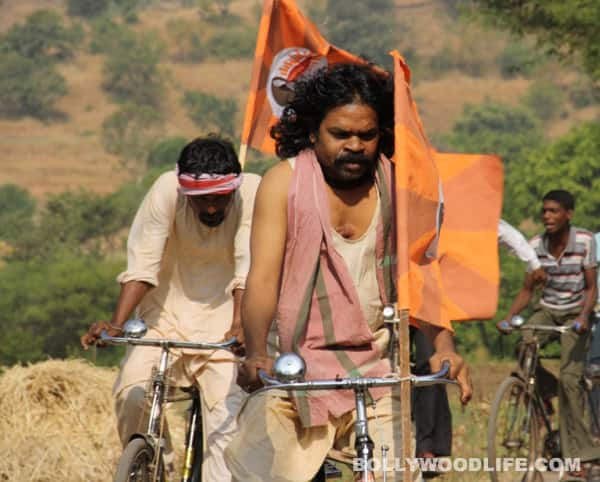 Walking into Shiv Dubey's MLA- An Inside Intruder with your tummy full is a dangerous proposition because you'll either doze off or have haunting nightmares about the film for the days to come. If not, then you'll simply throw up!
Picture this: you are watching a predictably boring 90's film, preferably a C-grade production with an amazingly simplistic and dumb storyline. You have to look at actors who wear the same expression throughout the film and mouth the most cliched lines. The conventional 'hero' and 'heroine' break into a dance and go on a romantic escapade absolutely unannounced. There's err…a black villain…a corrupt MLA, a squeaky clean industrialist, the hero, with no playful or fun shades to his holier than thou persona. The political battle between the hero and villain begins in the middle of an item song, followed by a bludgeoning background score, a titillating skin show and overt deshbhakti. If you can stand all this unfolding on the big screen at a lazy – at times even at a deadeningly lethargic pace – and want to test your threshold for pain, go catch this one.
When a clean-hearted industrialist (newbie Chaitannya) wants to start a Milk plant with philanthropic intentions in his dusty village, the regional MLA (Mukesh Tiwari) opposes him for his ulterior political motives. Chaitanya's character adopts 'state the truth as it is' agenda and irritates the MLA saab. The villagers demand a new MLA and that doesn't go down well with the current one. A diligent farmer (Omkar Das Manikpuri) plays a crucial role in unifying the divided villagers and tries his best to bring about a positive change. Will he succeed in his motive? Will a new MLA be elected?
While watching MLA, one can sense that the director wants to give a strong message with tremendous urgency, but in doing so he's got all the basic elements horribly wrong. His intention doesn't match the execution. Right from the story to the screenplay and to the acting – everything about this venture is cringe-worthy. The hero (Chaitanya) wears the same expression throughout, whether he is romancing his firang heroine or fighting his arch rival – the look on his face (almost constipated!) just doesn't change. Mukesh Tiwari is the only saving grace of the film. Omkar Das Manikpuri's performance makes you wonder if he's the same guy who gave us the delightful character of Natha in Peepli Live. And what makes the already bad movie worse, is the predictable elements that the director conveniently uses just to spice up the drama. So you have a mandatory rape, you have a corrupt cop who hams, you have a seedy item song with oodles of cleavage show…the list is endless….