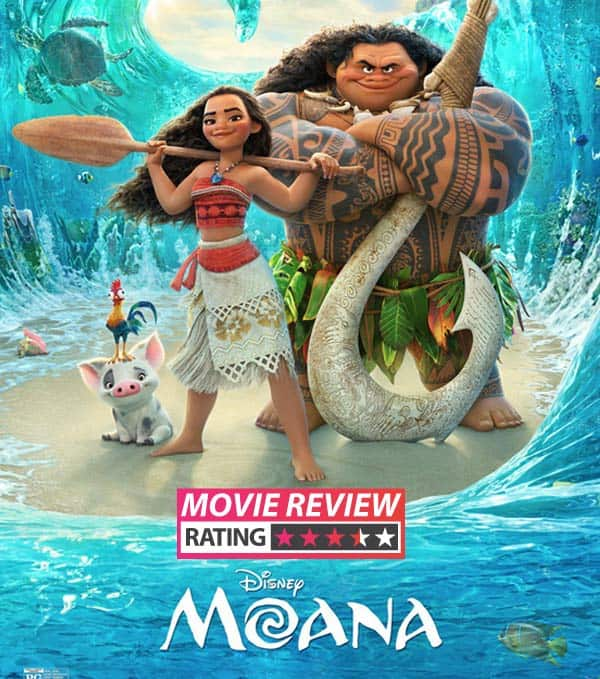 From the creators of Aladdin and The Little Mermaid comes a new musical animation flick, Moana. Currently setting the US box office on fire, Moana has the voice talents of Auli'i Cravalho and Dwayne Johnson, with Jemaine Clement, Temuera Morrison, Nicole Scherzinger, Rachel House and Alan Tudyk providing the additional voice support. The last time, Disney had ventured into musical animation genre, we got Frozen and you know what a cultural influence it has been, with the song 'Let It Go' still reverberating in our minds. Now that Moana has released in India, let's see if it can hold a candle to that beloved story of an ice princess and her chirpy sister.
What's it about
A demigod Maui (Dwayne Johnson) steals an island goddess Te Fiti's heart, which happens to be a small artefact, and tries to escape with it. On the way, a huge lava monster stops him, making him lose the amulet and his magical hook into the ocean, and getting him stranded on an island. Years later, we meet Moana (Auli'i Cravalho) who is a daughter of a Polynesian tribe chieftain (Temuera Morrison). Her tribe has made themselves content in their paradise of an island. As a little kid, Moana wants to explore the seas and go beyond the reef. However her adamant father wants her to stay on the island and be the next leader for the people there. When a certain darkness began to engulf their island, her granny tells her that it is the consequence of Maui's act, and this darkness that resulted from the act will take over the entire world. She convinces Moana to invoke her dormant voyager lineage and cross the seas to find Maui and return the artefact, because the ocean has chosen her. Leaving her home behind, Moana takes to the sails to find Maui and convince him to accompany her, so that they can rectify his mistake and restore Te Fiti's heart.
What's hot
Just when you thought Disney can't impress you any more, it surprises you once again with movies like these. From the grand animation visuals of the green islands, the blue pristine waters of the oceans and the dark underbelly of the seas, Moana boasts of some really impressive visuals that will spellbound you, especially if you are watching it in 3D. But no visuals are enough to touch your heart, unless there are some really engaging scenes and great performers to back them up. And that's another trump card for the movie. Moana has some really finely crafted scenes that will make you laugh or touch your heart. The entire sequence of a baby Moana is so cutesy, that you may want to rewind it again and again. Even the sequence between a teen Moana and her granny's spirit just before the climax is moving and uplifting at the same time. I love the fact that the makers chose to make Moana a determined heroine who doesn't need a romantic subplot to establish her character. Her bond with Maui is rather that of between siblings, and it is she who leads him, guides him and motivates him to finish the mission, rather than the other way around. The Mad Max: Fury Road inspired water chase sequence, featuring pygmy pirates, is brilliantly done and hilarious at the same time. Speaking about the voice cast, Auli'i Cravalho has an amazing voice and she hit all the best notes when she sings I am Moana song. Her playful banter with Dwayne Johnson is endearing. The Rock, in his first animation movie, bring his natural charming flair to the role, while not obliterating the main lead's role. And he is not a bad singer either. Among the rest of the characters, Tamatoa, a giant treasure-hoarding coconut crab, and Moana's dumb rooster (Disney's take on Ice Age's Scrat) stand out.
As for the songs, while none of them has the potential to be the next "Let it Go', Jemaine Clement's wickedly delicious Shiny number will stay in your minds for a long time. The BG score is impressive.
What's not
While Moana may impress you with its visuals and feel good scenes, it follows the predictable pattern of resolving the final conflict with ease, that has been a curse of a few Disney movies. Also during the movie, Maui asks Moana why the ocean chose her to lead the mission – a question, whose answer we are yet to comprehend even after the movie ends. We are not clear as to why the ocean had Moana to deliver the heart to Te Kiti, when it could have easily done so itself, as it is a character on its own (Like Doctor Strange's Cloak). Therefore using the mass of water as an ex machina to help Moana in a few scenes can only be labelled as convenient story-telling. something this movie didn't need. And pray, why cast Nicole Scherzinger in your movie when you don't give her at least one solo?
What to do
Moana is undeniably a great family treat Disney has for you this weekend, with strong messages about following your passion and women empowerment. As for the matter about Moana being better than Frozen, it's difficult for me to say whether it has the potential to surpass its predecessor. I would rather say, avoid comparisons and have a great time at the theatres, whether you are a Dwayne Johnson fan or not.
Rating:
out of 5
Reviewed by Sreeju Sudhakaran
* Poor
** Average
*** Good
**** Very good
***** Excellent