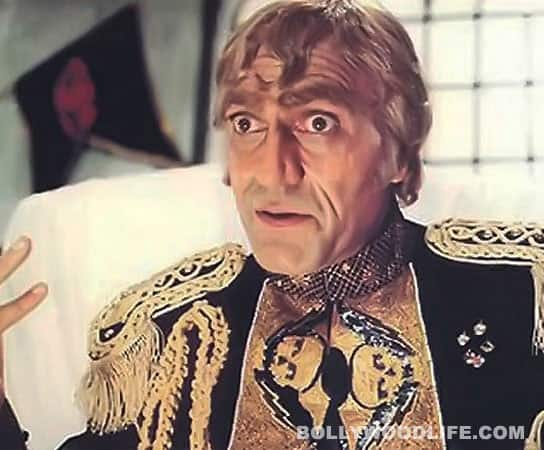 Bollywood villains are slowly making a comeback on the big screen. We take a look at what they would say if they suddenly decided to speak English!
Bollywood films may glorify the hero but, hey, what's a hero without a villain? If the hero doesn't have a baddie to fight, he can't show off his prowess. The bigger the baddie is, the bigger the hero becomes. Karan Johar and Karan Malhotra got that right with their new version of Agneepath. But even before Sanjay Dutt's Kancha gave us the heebie-jeebies, we've had other iconic villains who've set hair-raising trends as gun-toting, cigar smoking depictions of evil. Their dialogues made them even scarier. So what can you do if your fave film is airing on television but you are too scared to watch it because of the villain? You can translate their dialogue into English! We guarantee you will find them more funny than scary if you do that. Here are a few lines to kick off your imagination:
Gulshan Grover in Mohra
Aaj subah se ek friend ka dil tumhe wish karna chaah rah tha, par in safed baal ke neeche kaala dimaag rok raha tha. Kya karoon…dirty mind!
Since this morning, this friend's heart has been wanting to wish you, but below this white hair, the black mind was stopping it. What to do… (it's a) dirty mind!
Danny Denzongpa in Ghatak
Kutte ka pilla kutta hota hai, sher nahin. Tera baap kutta tha, tu kutte ka pilla hai, kutta hai tu kutta
The puppy of a dog is a dog, never a tiger. Your father was a dog, you are the puppy of a dog, you are a dog a dog
Ajith in Kaalicharan
Saara sheher mujhe 'loin' ke naam se jaanta hai
The entire city knows me by the name of 'Loin'
Anupam Kher in Karma
Dr Dang ko aaj pehli baar kisini thappad maara hai. First time. Is thappad ki goonj suni tumne?
Dr Dang has been slapped for the first time by someone. First time. Did you hear the echo of this slap?
Amrish Puri in Mr India
Kal saara Hindustan Mogambo ke saamne sar jhukayega.Mogamba khush hua
Tomorrow, the entire India will bow their heads in front of Mogambo. Mogambo became happy
Amjad Khan in Sholay
Suar ke bachchon! Woh do the or tum teen. Phir bhiwapas aagaye, khaali haath. Kya samajhkar aaye the? Sardar bahut khush hoga,shabaashi dega, kyun? Ditkaar hai!
You kids of pigs! They were two and you were three.Yet you came back, empty handed. What did you think and come? That the leader will be very happy, will praise you, why? What a shame!
Sanjay Dutt in Agneepath
Tum kya leke aaye the aur kya lekar jaaoge. Rehjaayega sirf ek insaan. Sarv shaktishaali sarv shaktimaan. Kancha!
You had come with what and what will you take andgo. To remain will only be one man. Most powerful, most powerful, Kancha!